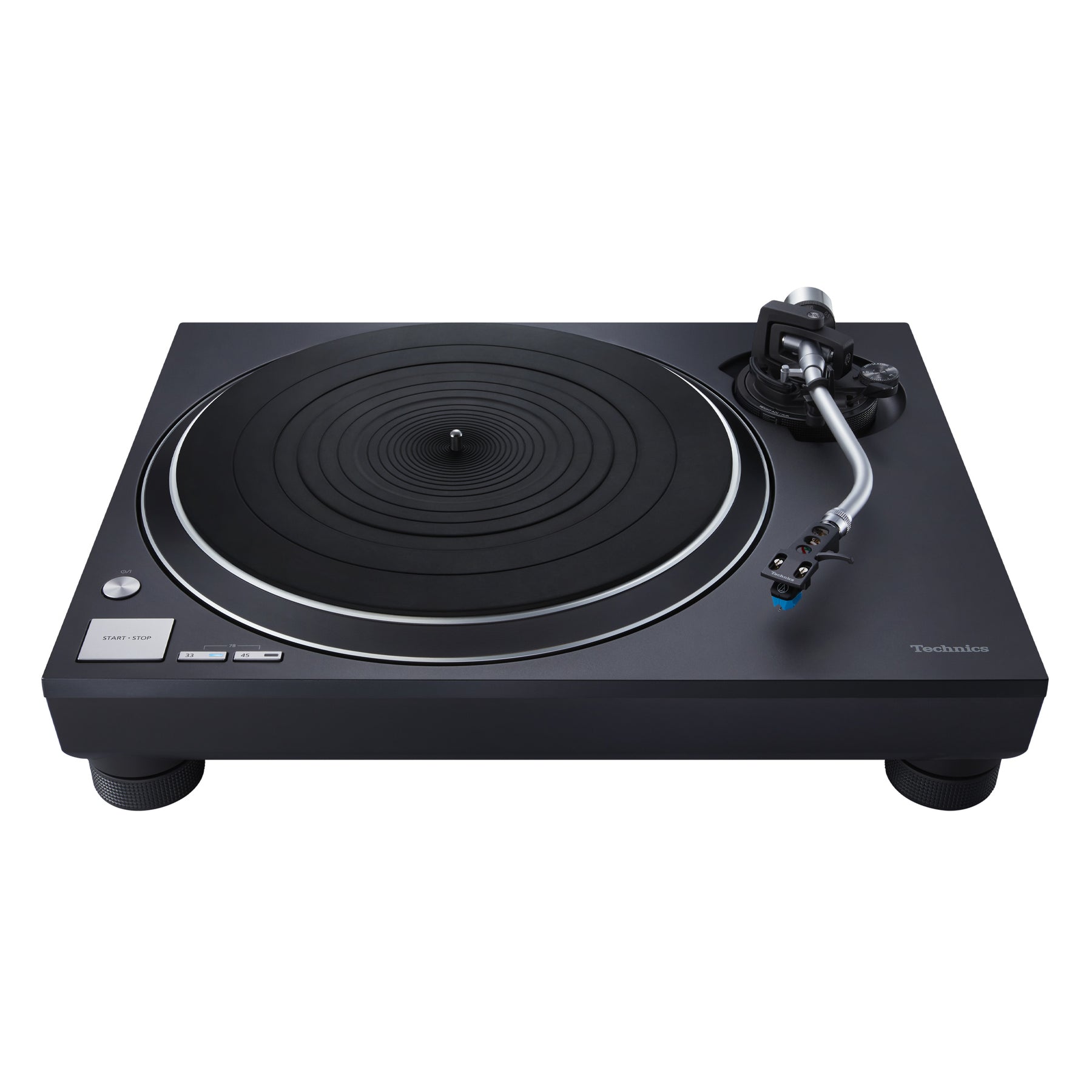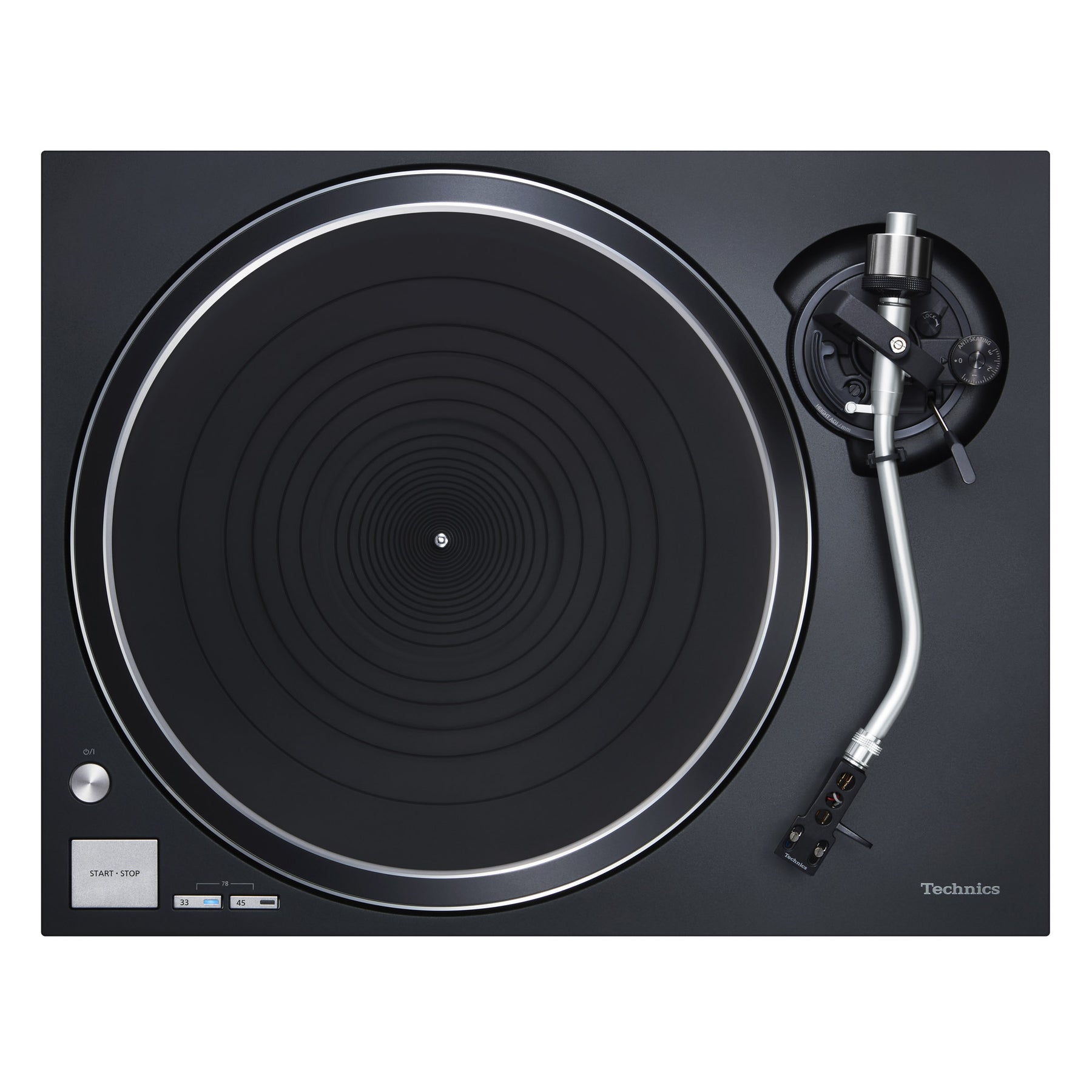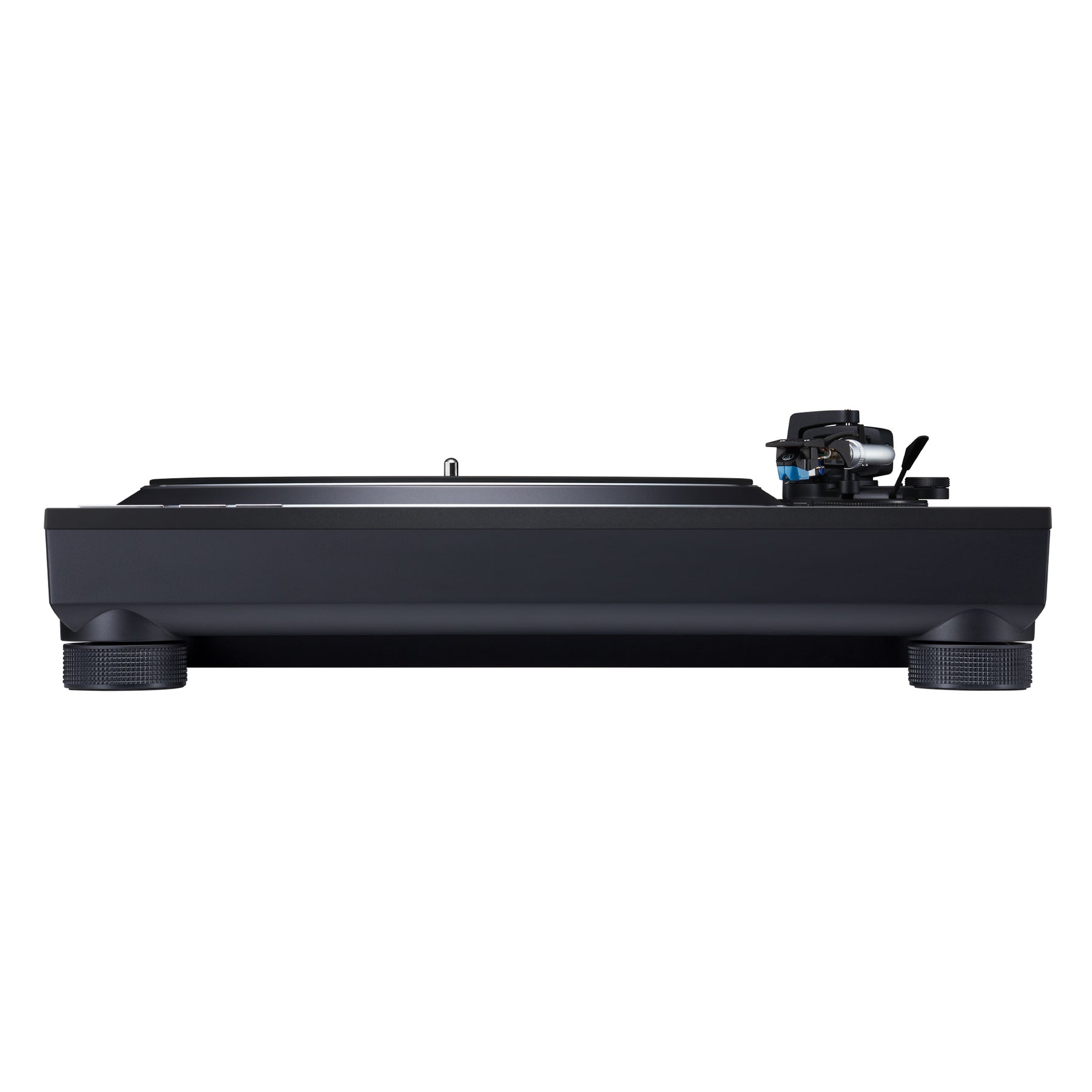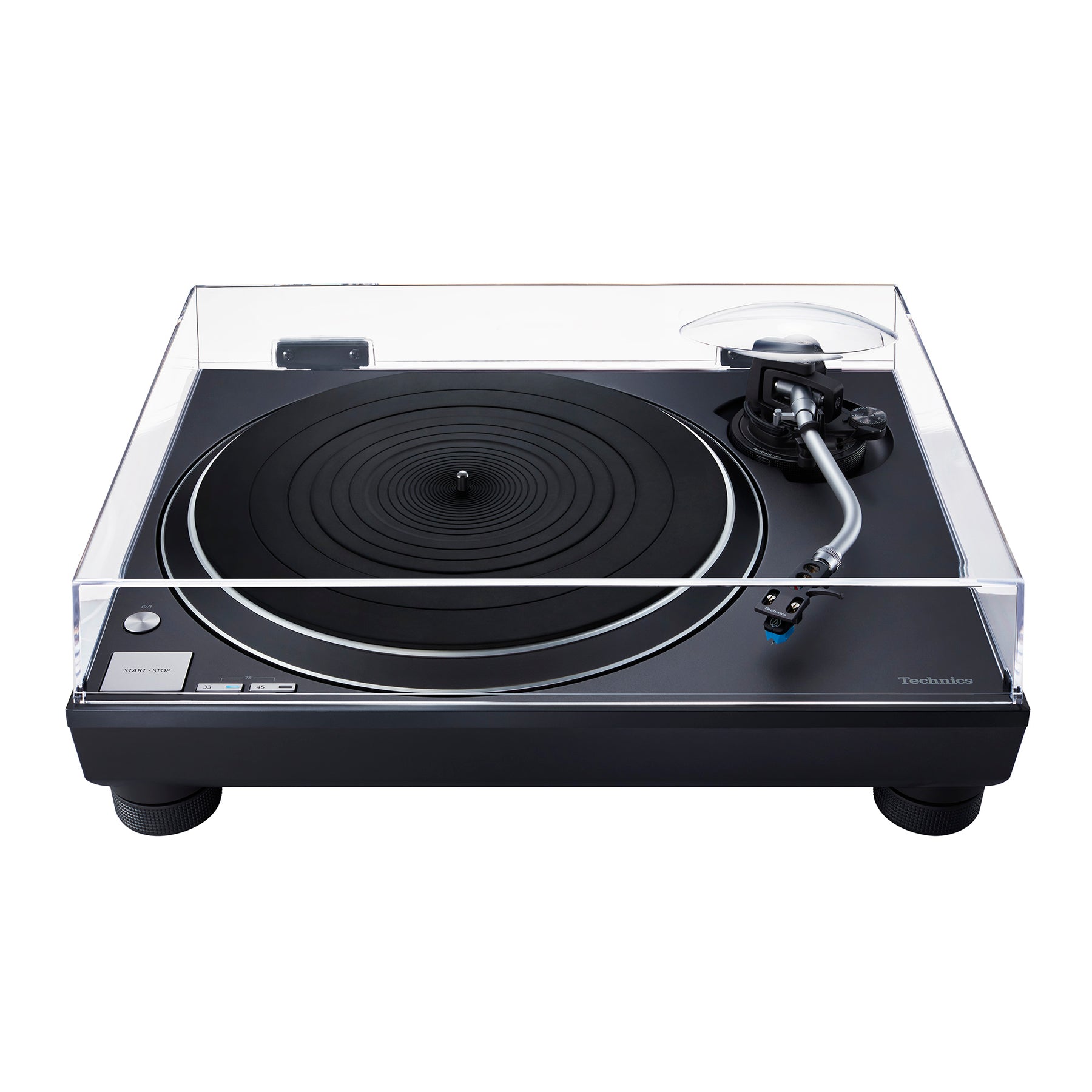 Direct Drive Turntable - SL-100C
The Technics SL-100C Turntable provides an unmatched audio experience that allows you to experience smooth, stable playback from your vinyl records in a sleek, minimalistic design.
Enter the real vinyl culture with the Technics SL-100C Premium Class Turntable System. Using technologies acquired through the development of the SL-1200 Series and the Reference Class flagship SL-1000R, the SL-100C uses the latest coreless direct drive brushless DC motor provides high-level accuracy in rotation and signal for smooth, stable playback. With an interchangeable pre-installed cartridge, auto-lift function and high-quality, elegant design, the SL-100C is true a hallmark of the Technics tradition.
Coreless direct drive brushless DC motor, achieves stable rotation that is free from cogging
Highly sensitive S-shaped aluminum tonearm accurately reads record grooves
High-rigidity cabinet and high-damping insulator for thorough shut-out of vibrations, ensuring a smooth vinyl-tracking process
Pre-installed Audio-Technica AT-VM95C pickup cartridge for easy setup; interchangeable for upgrades
Auto-lift tonearm minimizes needle wear-out and preserves records
Power Supply
AC110-240 V, 50 Hz / 60 Hz
Power Consumption
8 W, Approx. 0.2 W (Standby)
Dimensions (W x H x D)
Main Unit 453 x 169 x 372 mm
Weight
Main Unit Approx. 9.9 kg (21.82 lbs)
Accessories
Turntable, Turntable sheet, Dust cover, EP record adaptor, Balance weight, Head shell, Cartridge(audio-technica AT-VM95C), PHONO cable, PHONO earth lead, AC power supply cord, Owner's Manual
Audio Output
PHONO (Pin Jack) x 1 EARTH TERMINAL x 1
Type Universal
Static Balance
Effective Length (from the tonearm pivot to the stylus)
230mm
Overhang
15 mm (19/32 inch)
Tracking Error Angle
Within 2° 32' (at the outer groove of 30 cm (12") record), Within 0° 32' (at the inner groove of 30 cm (12") record)
Arm Height Adjustment Range
0 - 6 mm
Stylus Pressure Adjustment Range
0 - 4 g (Direct Reading)
Headshell Weight
Approx. 7.6 g
Applicable Cartridge Weight Range (including Headshell)
5.6 - 12.0g (without auxiliary weight) 14.3 - 20.7g (including headshell) 10.0 - 16.4g (with auxiliary weight) 18.7 - 25.1g (including headshell)
Head Shell Terminal Lug
1.2mmφ 4-pin terminal lug
Drive Method
Direct Drive
Turntable Speeds
33 1/3, 45, 78 rpm
Starting Torque
0.18 N・m / 1.8 kg・cm
Build-up Characteristics
0.7 s. from standstill to 33 1/3 rpm
Braking System
Electronic Brake
Wow and Flutter
0.025% W.R.M.S.
Turntable Platter
Aluminum diecast Diameter :332 mm Weight:Approx. 2.0 kg (Including Turntable Sheet)
The Latest Coreless Direct Drive Motor Achieves High-precision Stable Rotation
The technologies acquired through the development of the SL-1200 Series and the high-end SL-1000R model were lavishly inserted into the motor drive unit, a key part of the turntable. The motor exclusively tunes the single-rotor, coreless direct drive motor adopted by the SL-1200GR in order to read the high rotation accuracy and high-precision signals of the record. Optimal motor control is conducted for the inertial mass of the two-layer structure platter on which the vinyl record is placed with deadening rubber on the entire back surface to eliminate unwanted resonance in the aluminum die-cast platter to eliminate the rotation irregularity called cogging.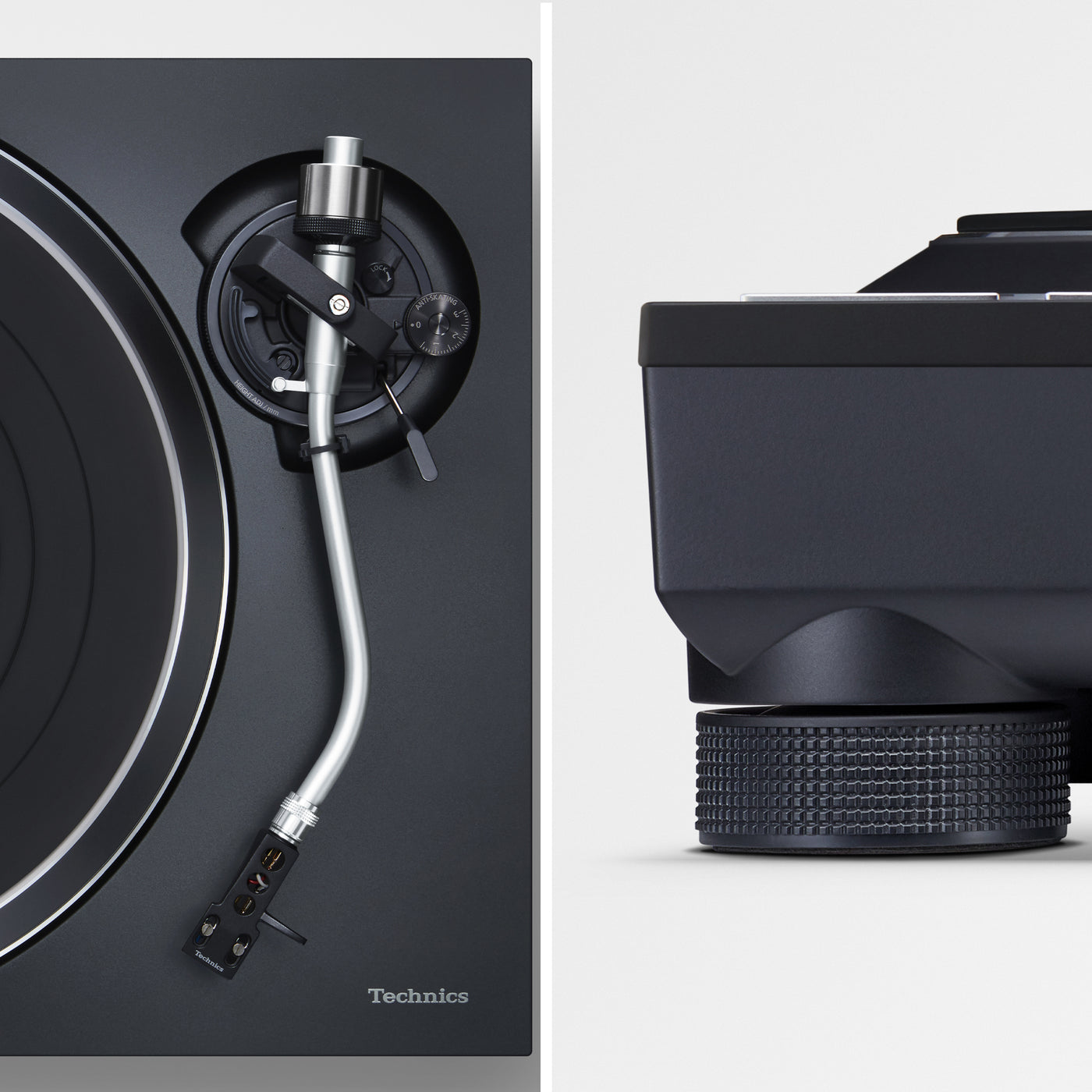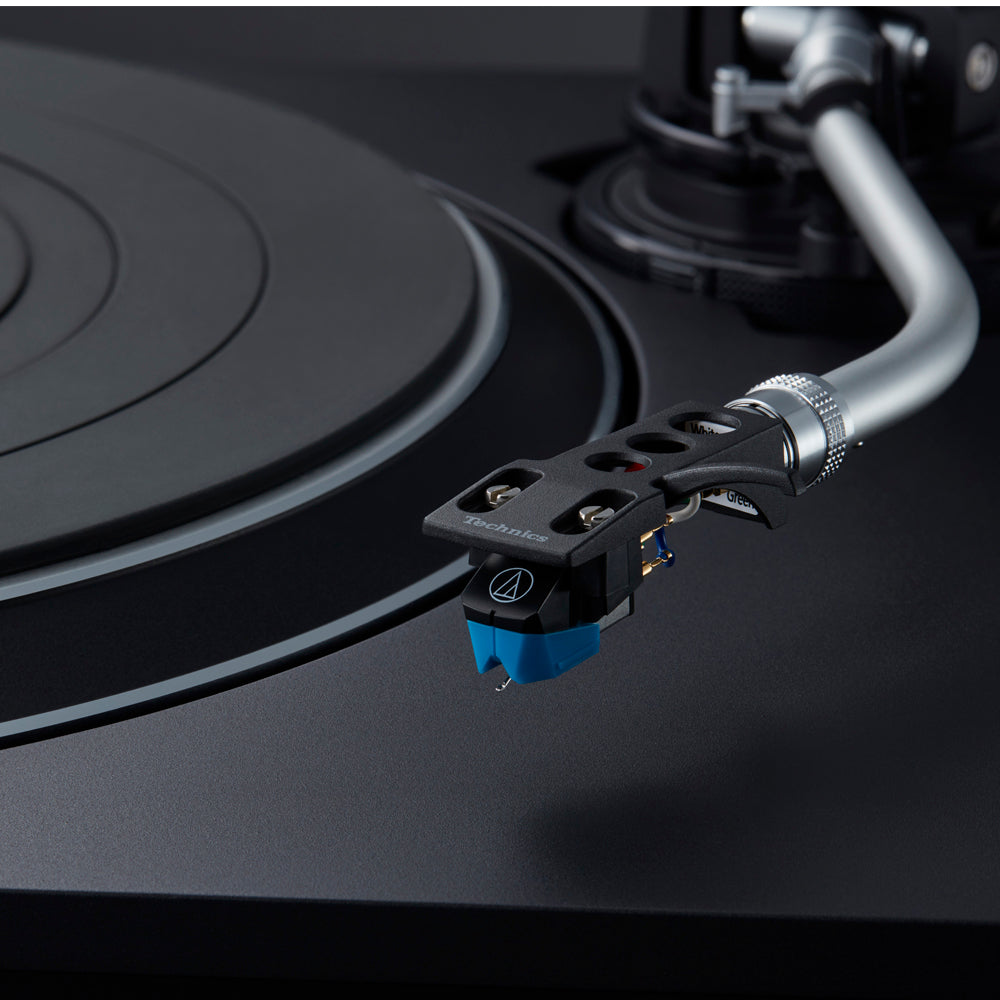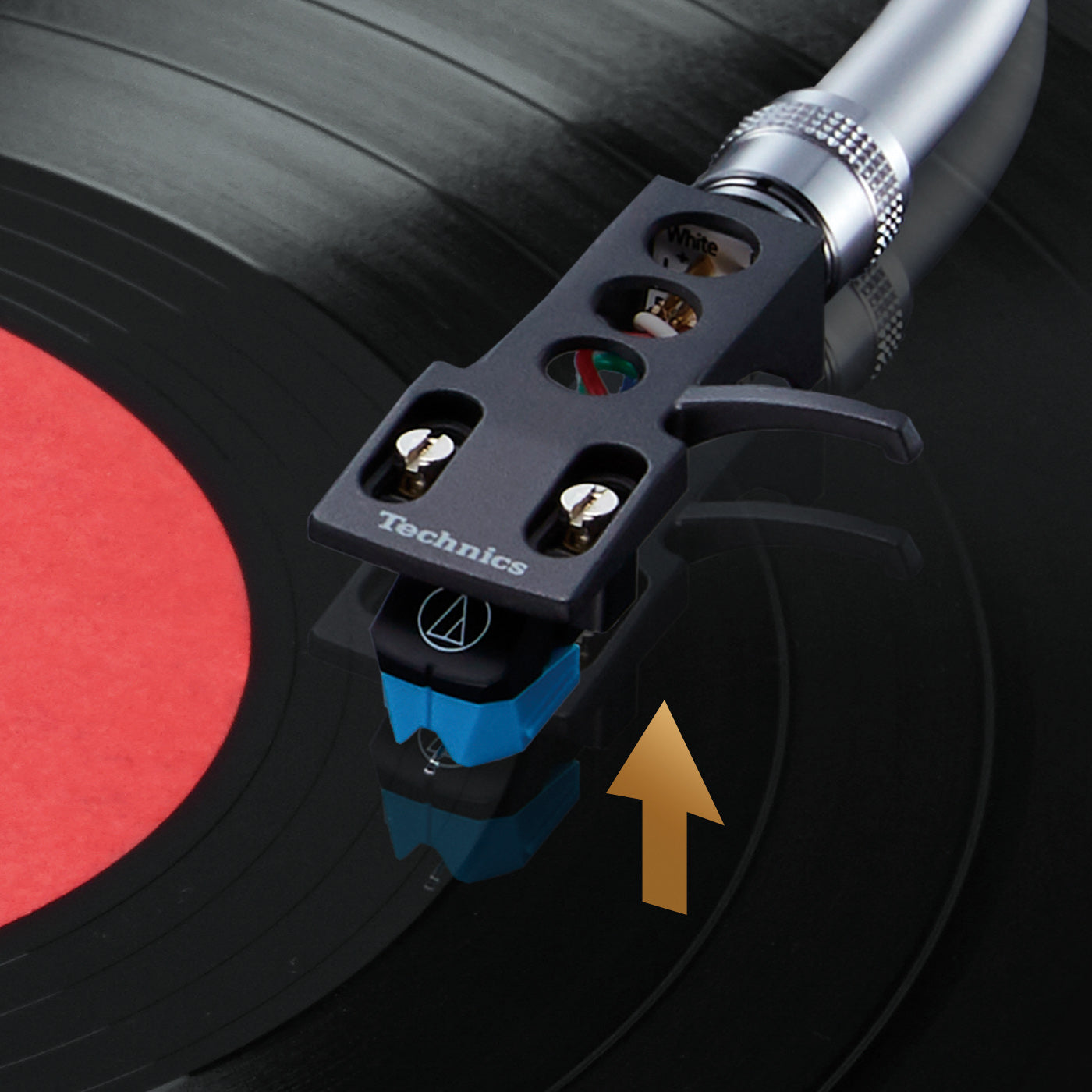 Accurately Reads Signals from the Groove on the Record
The tonearm is a static-balance universal S-shape tonearm, another Technics tradition. By adopting a high-precision bearing using the same gimbal suspension construction and machined housing as the SL-1200 Series, high initial sensitivity is achieved. The aluminum
die-cast chassis is rigidly integrated with a special material consisting of ABS-mixed with glass fiber to achieve a two-layer construction. The insulator is comprised of a spring and rubber to provide optimal vibration-damping characteristics.
Equipped with Audiophile-Grade Cartridge
The SL-100C comes preinstalled with an Audio-Technica AT-VM95C cartridge, so you can listen to your favorite tunes in high fidelity with minimal set up. The tone arm height can be easily adjusted within a range of 6 mm, enabling the use of various other phono cartridges.
Auto Lifter Minimizes Wear on Records and Stylus
When the tonearm reaches the end of the record, the Auto Lifter function automatically raises the cartridge. This prevents unnecessary wear on your valuable vinyl records and stylus. By embedding the Auto Lifter function in the base portion of the tonearm, it eliminates impacts to the tonearm. Due to a simple design that doesn't use motor power, there is no electrical or vibrational impact and it will not prevent the movement of the tonearm. In response to requests from many users regarding the Auto Lifter function, a design that prioritizes sound quality was adopted. The functions required to playback records were kept to a bare minimum, achieving simple and easy-to-use operability.
Designed for Functional Beauty
The SL-100C sports a simplistic visual design without unnecessary frills, while retaining the high quality operational feel that is a Technics tradition. Its elegant minimalist appearance will enhance your listening experience.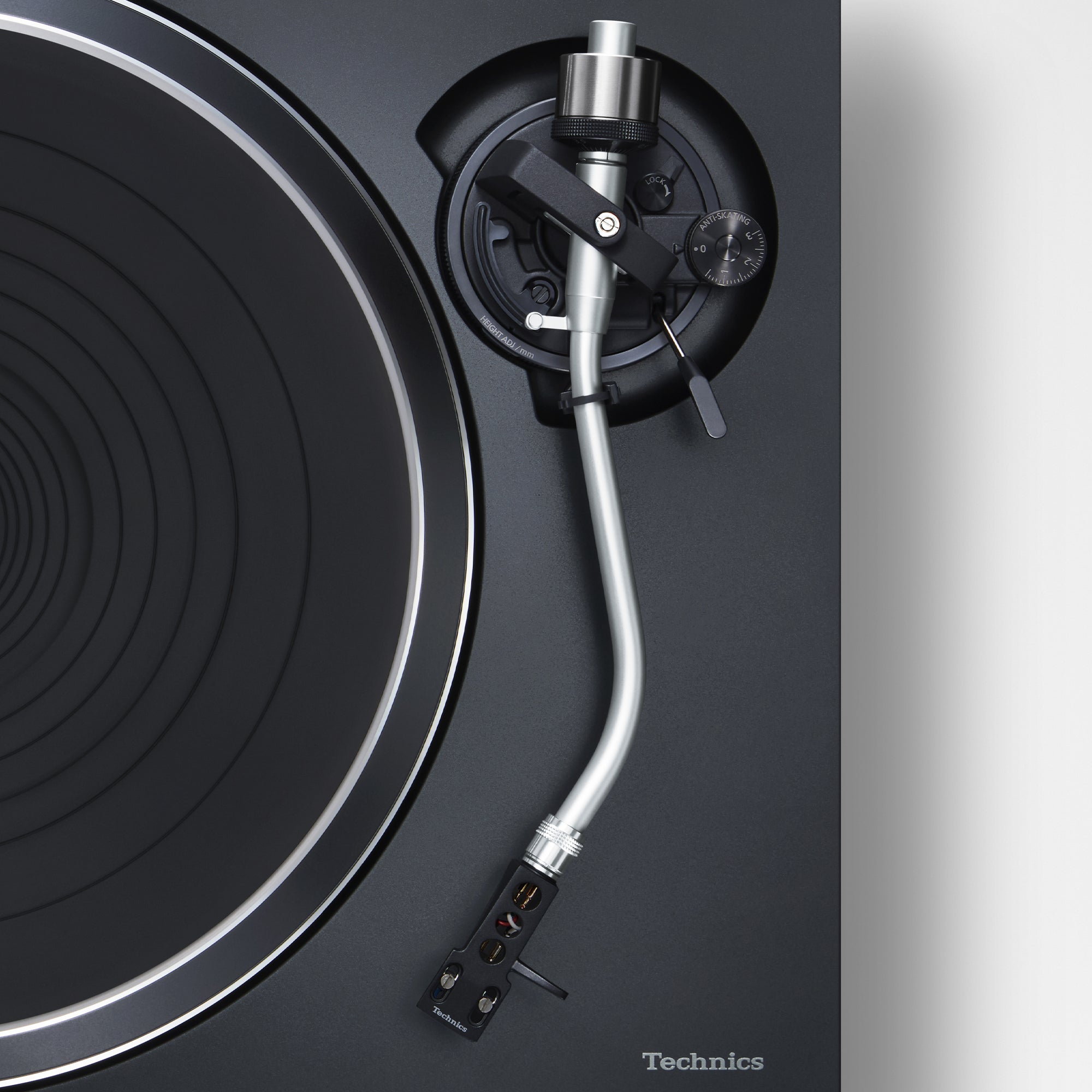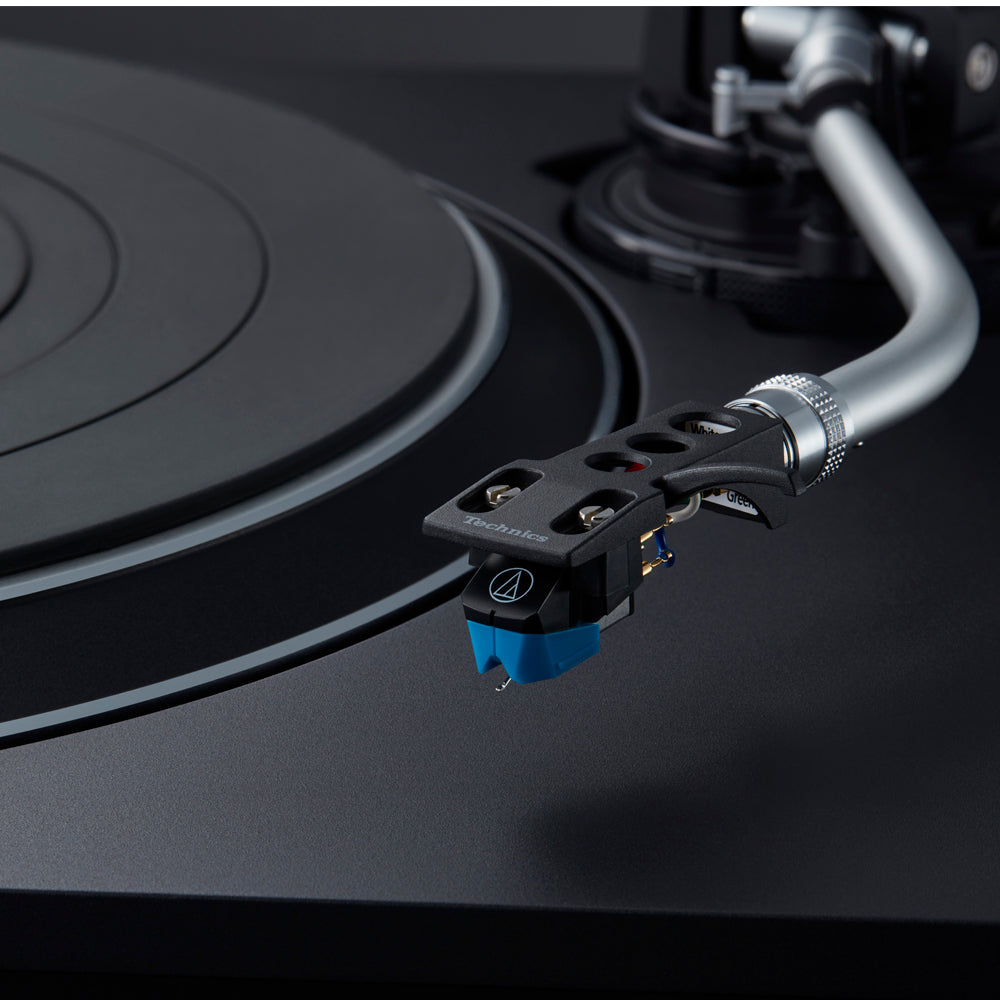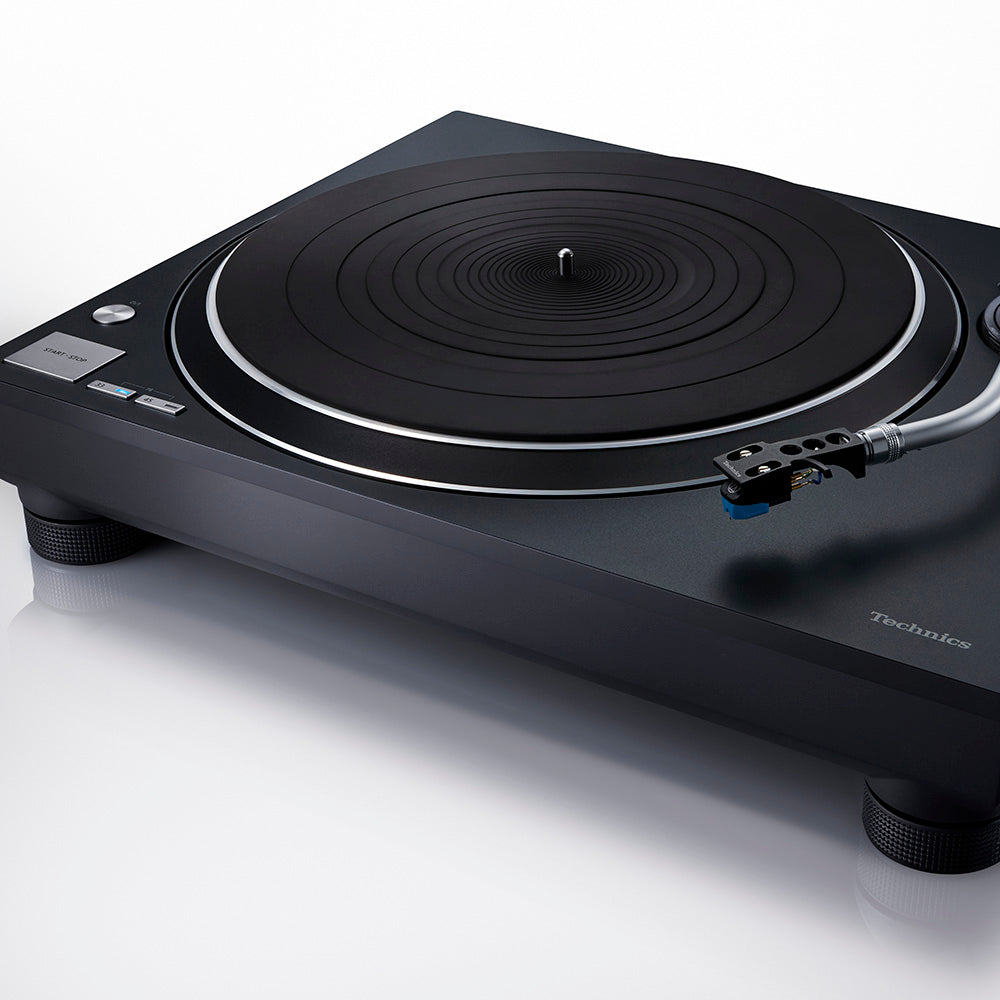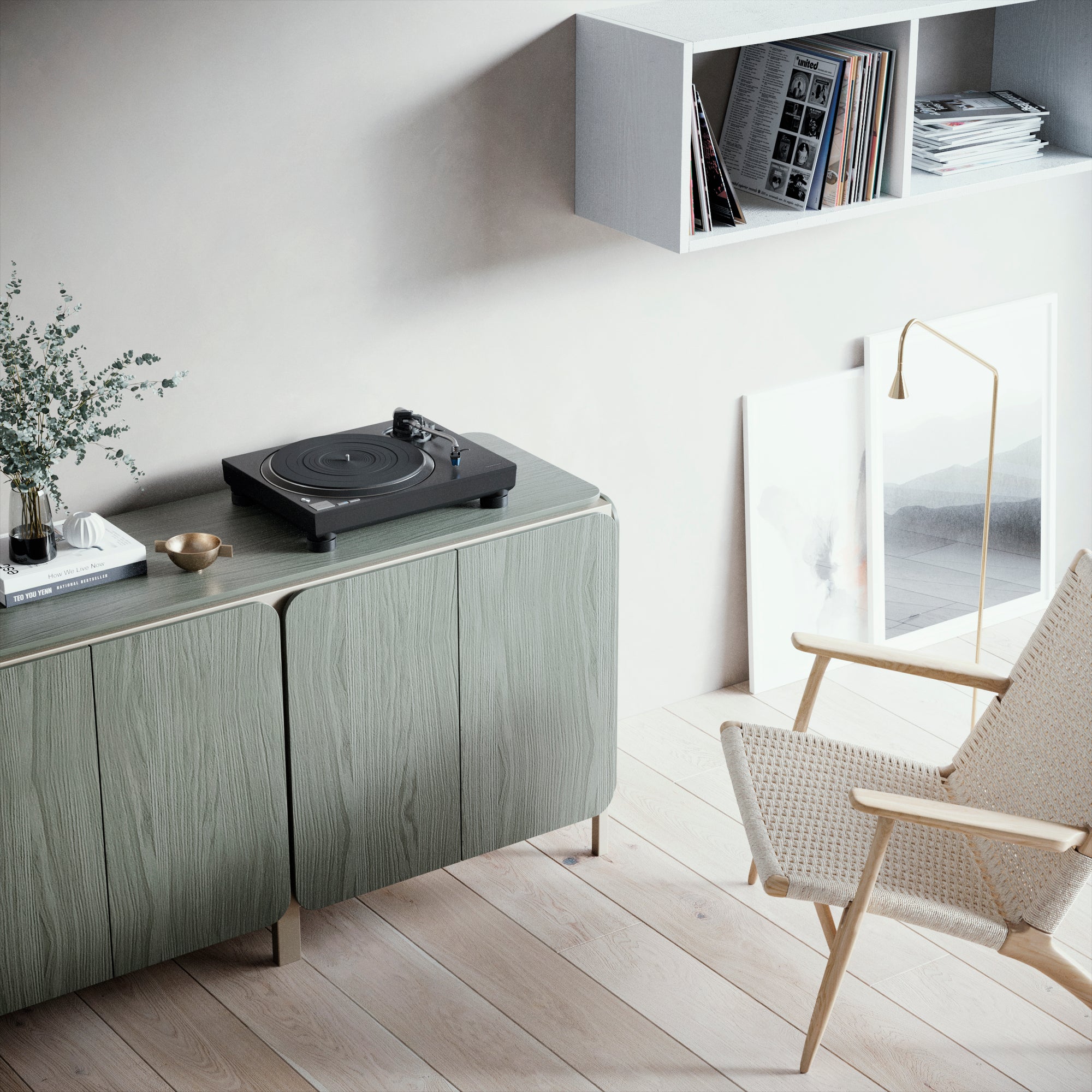 Total 5 star reviews: 4
Total 4 star reviews: 1
Total 3 star reviews: 0
Total 2 star reviews: 0
Total 1 star reviews: 0
100%
would recommend this product
Ease of Use
Rated 4.6 on a scale of 1 to 5
Durability
Rated 4.6 on a scale of 1 to 5
Sound Quality
Rated 5.0 on a scale of 1 to 5
GREAT TURNTABLE..EXACTLY WHAT I EXPECTED.

GREAT TURNTABLE..EXACTLY WHAT I EXPECTED. TECHNICS DOES NOT EVER DISAPPOINT ME!!!!

Ease of Use

Rated 5.0 on a scale of 1 to 5

Durability

Rated 5.0 on a scale of 1 to 5

Sound Quality

Rated 5.0 on a scale of 1 to 5

Solid Built and Wonderful Sound

The SL-100C sounds great right out of the box with the provided cartridge. However, it sounds much better upgraded with VM95 cartridge. I also noticed couple records that previously can't play on Rega P1 (due to skipping) have no problems playing on SL-100C. Overall, I am very happy with this purchase.

Ease of Use

Rated 4.0 on a scale of 1 to 5

Durability

Rated 4.0 on a scale of 1 to 5

Sound Quality

Rated 5.0 on a scale of 1 to 5

Very good product.

The sound quality is excellent. I was very surprised to hear even on older lp's and the even older 78's. Very easy to set up. I'm happy with this purchase.

Ease of Use

Rated 5.0 on a scale of 1 to 5

Durability

Rated 5.0 on a scale of 1 to 5

Sound Quality

Rated 5.0 on a scale of 1 to 5

After a 35 year hiatus, returning to vinyl.

Received my new Technics SL-100C a little over a month ago. Combined with a Darlington Labs MP-7 phono preamp. Clean, quiet and stable this turntable delivers.

It has made reproduced music enjoyable to me again. Best audio purchase in years.

Ease of Use

Rated 5.0 on a scale of 1 to 5

Durability

Rated 4.0 on a scale of 1 to 5

Sound Quality

Rated 5.0 on a scale of 1 to 5

Auto-Lift function erratic. But overall a good quality unit otherwise.

The AUTO-LIFT feature DOES NOT WORK properly and everyone complains this! Personally this feature was an important reason why I bought this unit and of course the overall quality of the Technics brand in direct drive technology, so I was a little disappointed. I just turned off the feature since it's so erratic in its function. Other than that, I love the unit. After reading reviews I decided to immediately upgrade to the Audio Technica WM95ML, since it's one of the best sounding audiophile styluses for less $200dlls; it's super easy to swap. I love the look of the turntable and the cover. It just looks simple and sturdy. I bought it in July 2022 from Amazon.es (Spain) and it cost me the equivalent to $857dlls with shipping included, which was really 747 euros plus 100 for shipping. I ignore if you can still get that price if you buy from Europe but you may shop around in Amazon UK, Germany, Italy, etc.

Ease of Use

Rated 4.0 on a scale of 1 to 5

Durability

Rated 5.0 on a scale of 1 to 5

Sound Quality

Rated 5.0 on a scale of 1 to 5
Reviews Loaded
Reviews Added