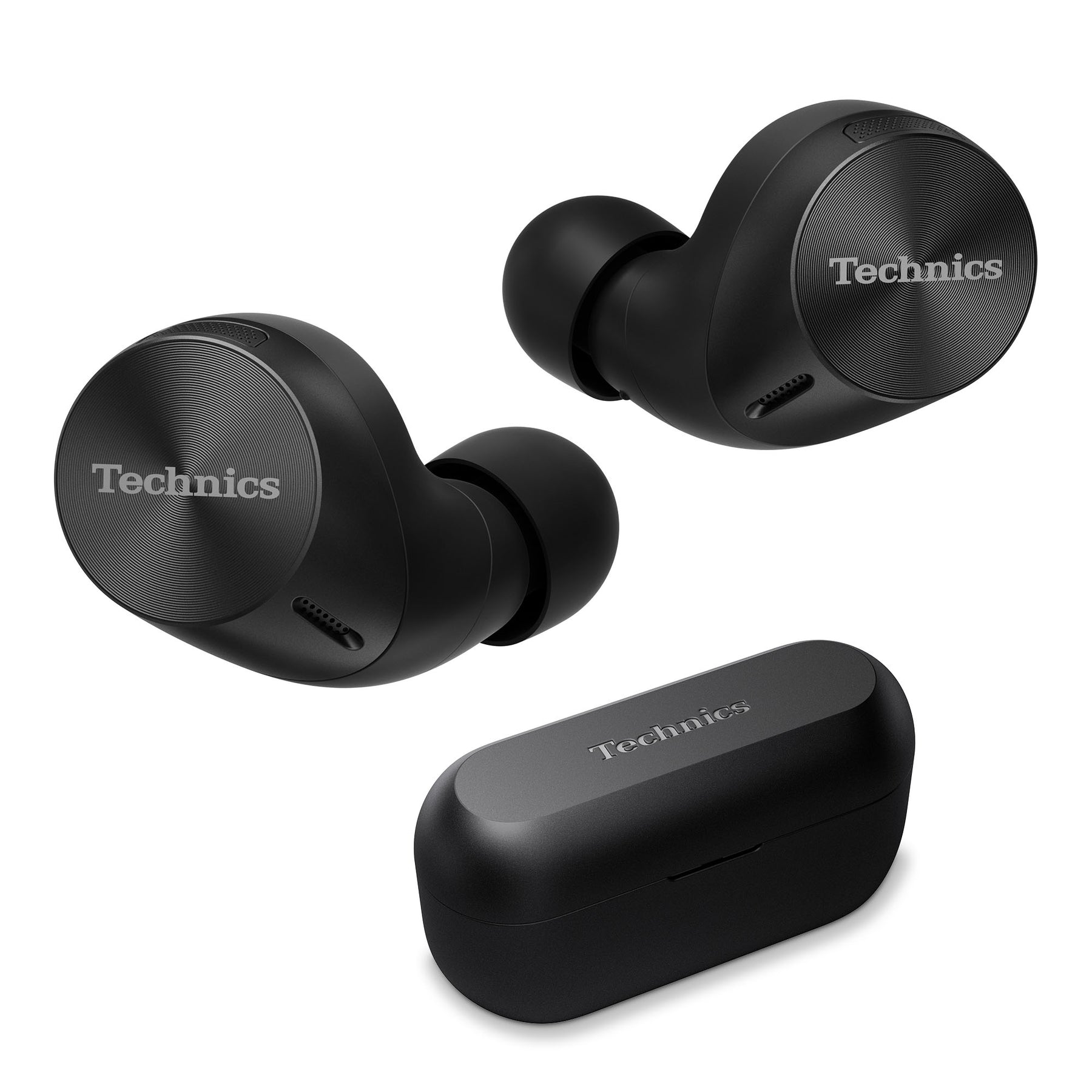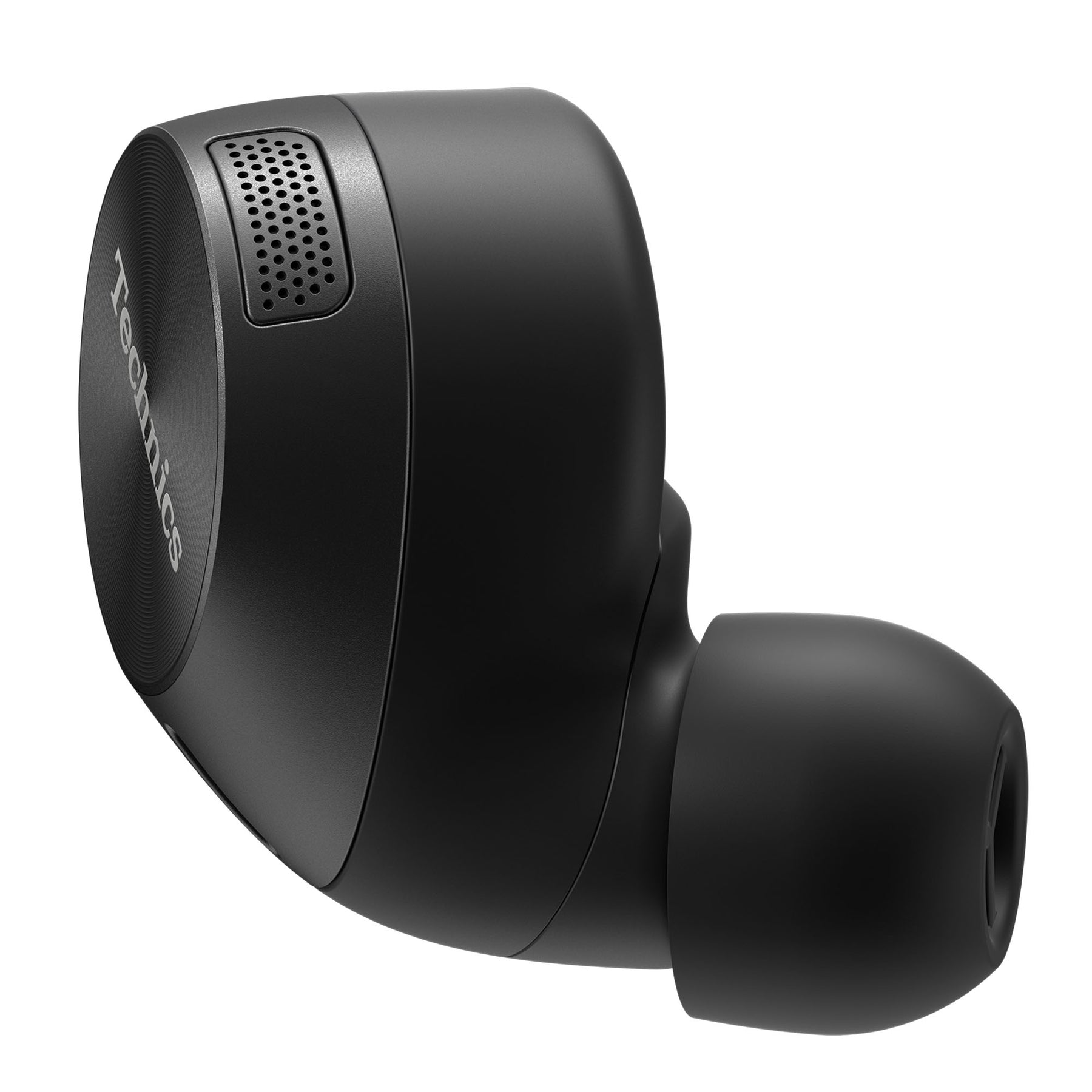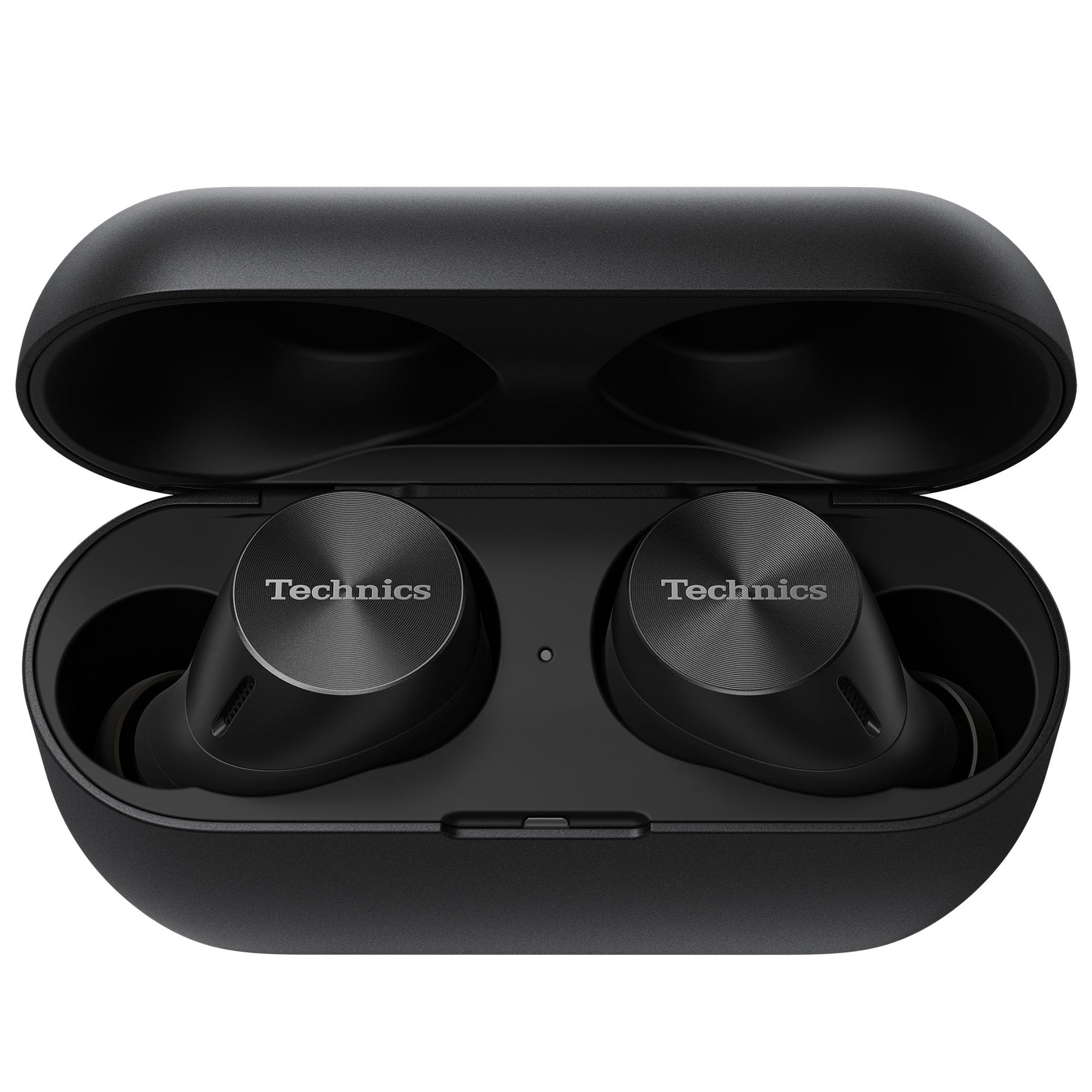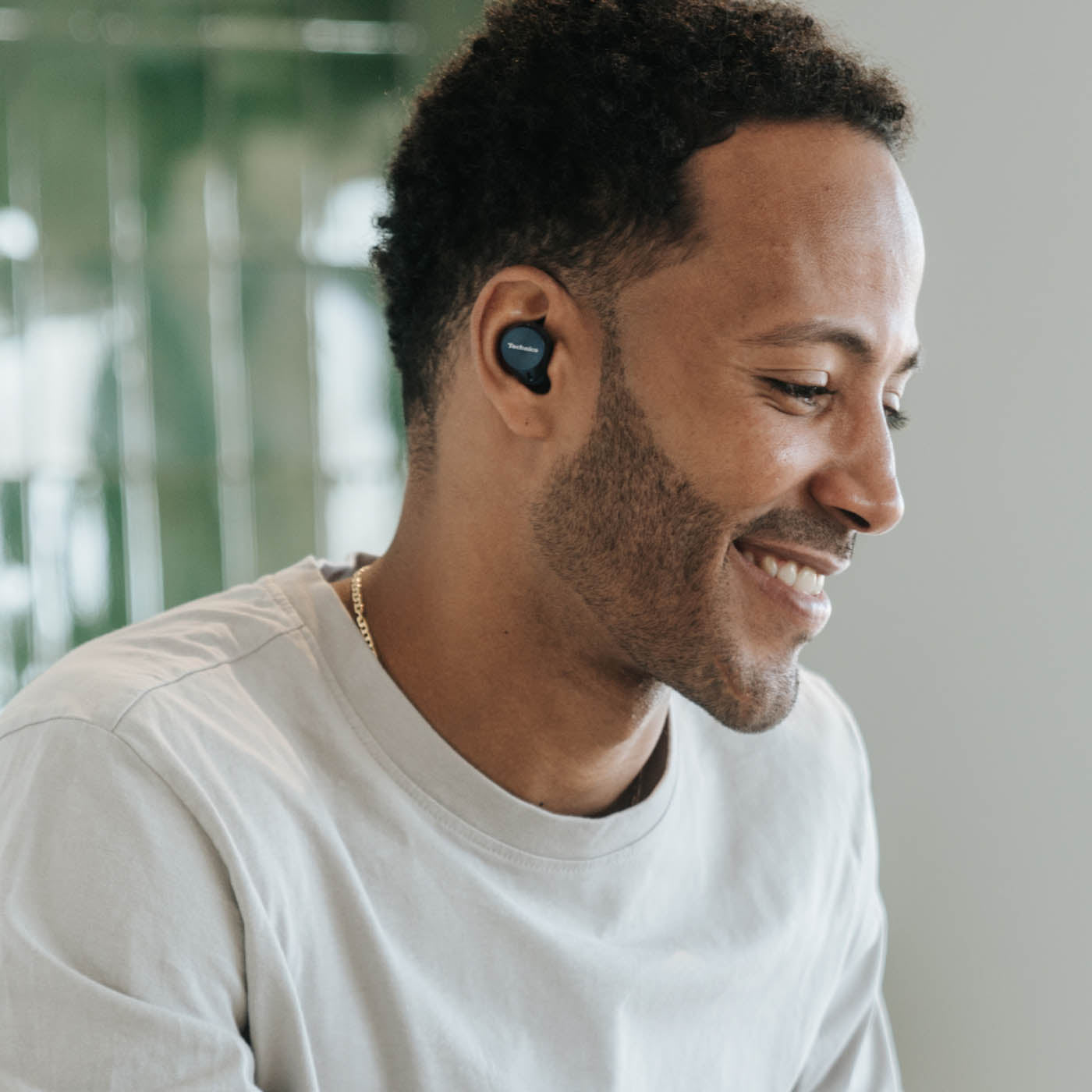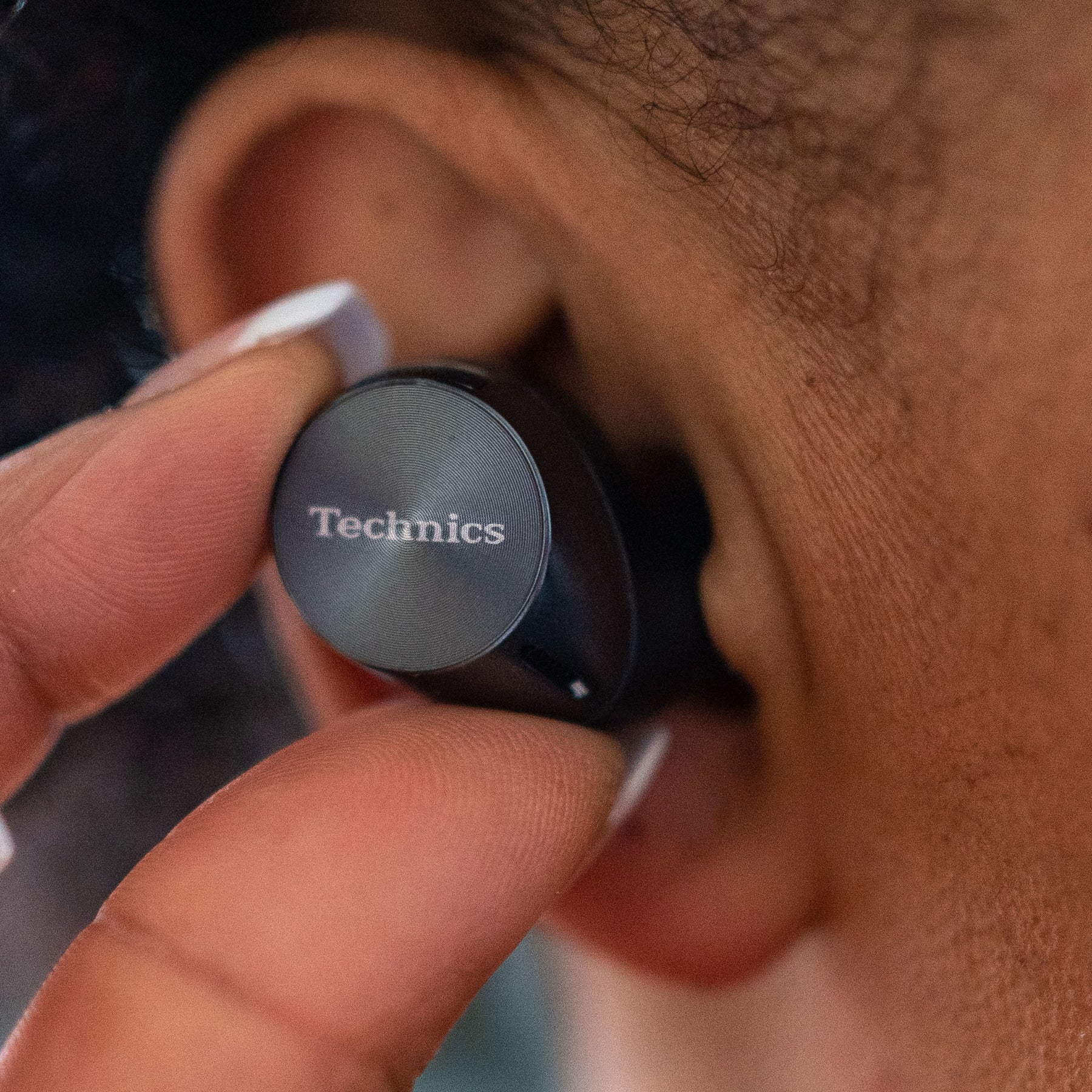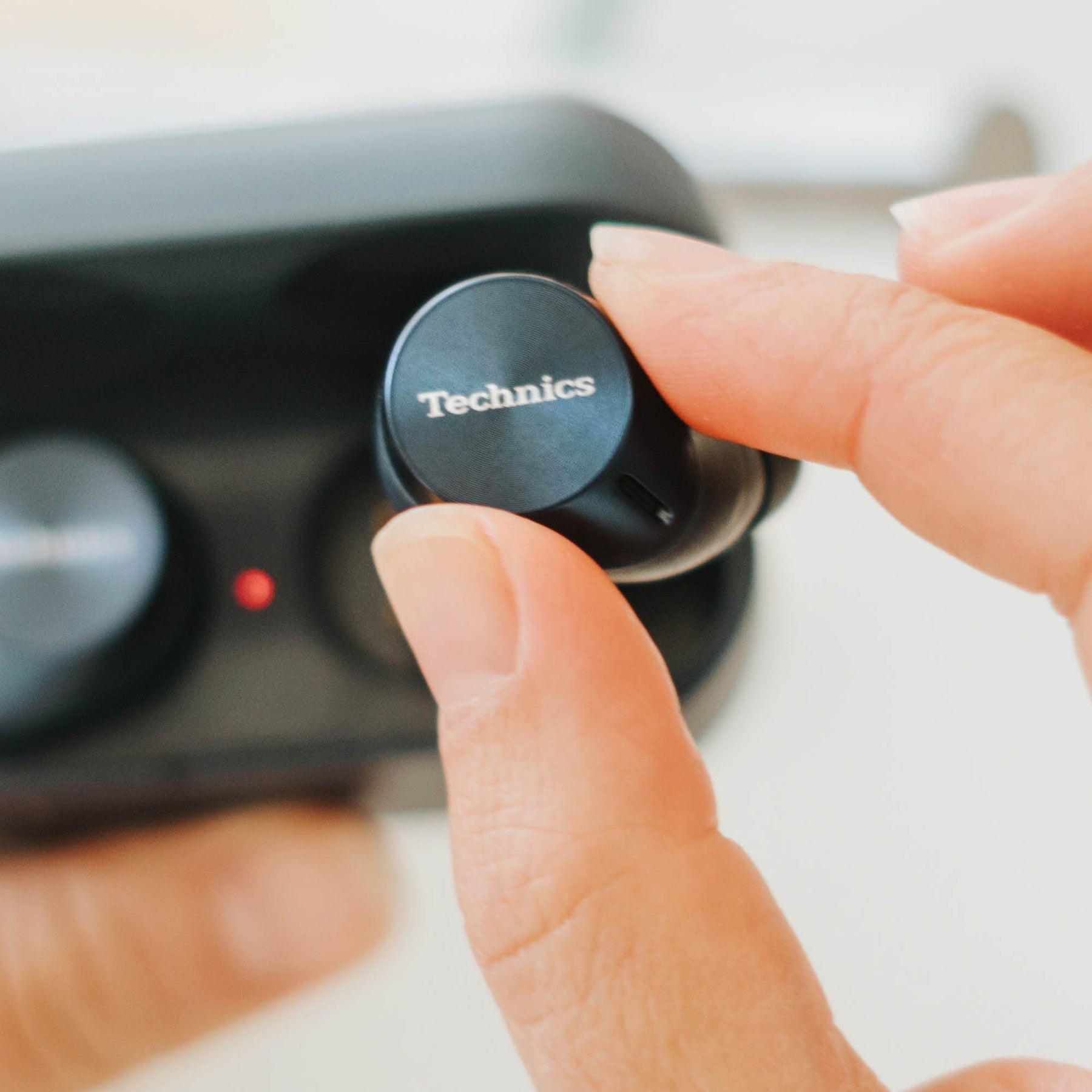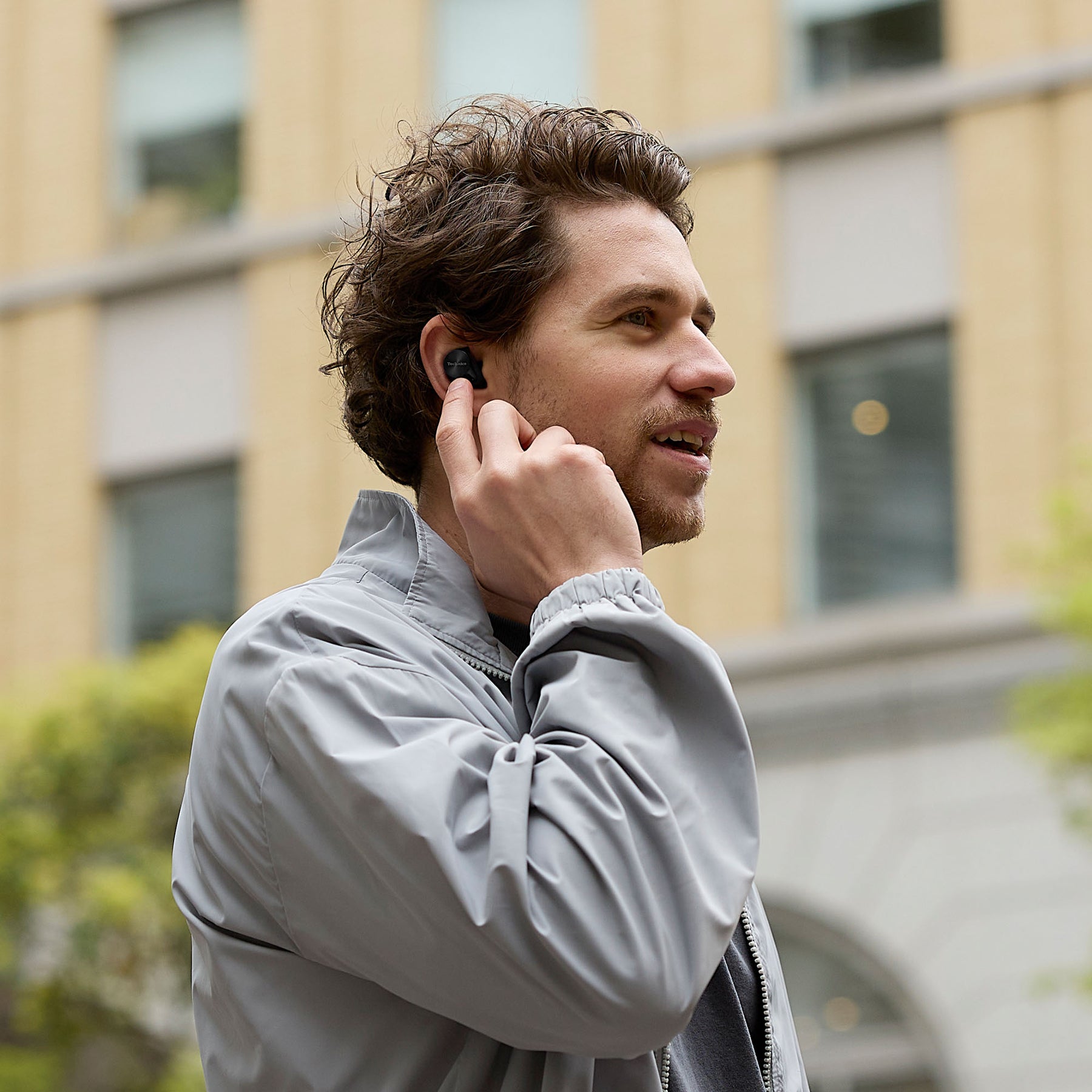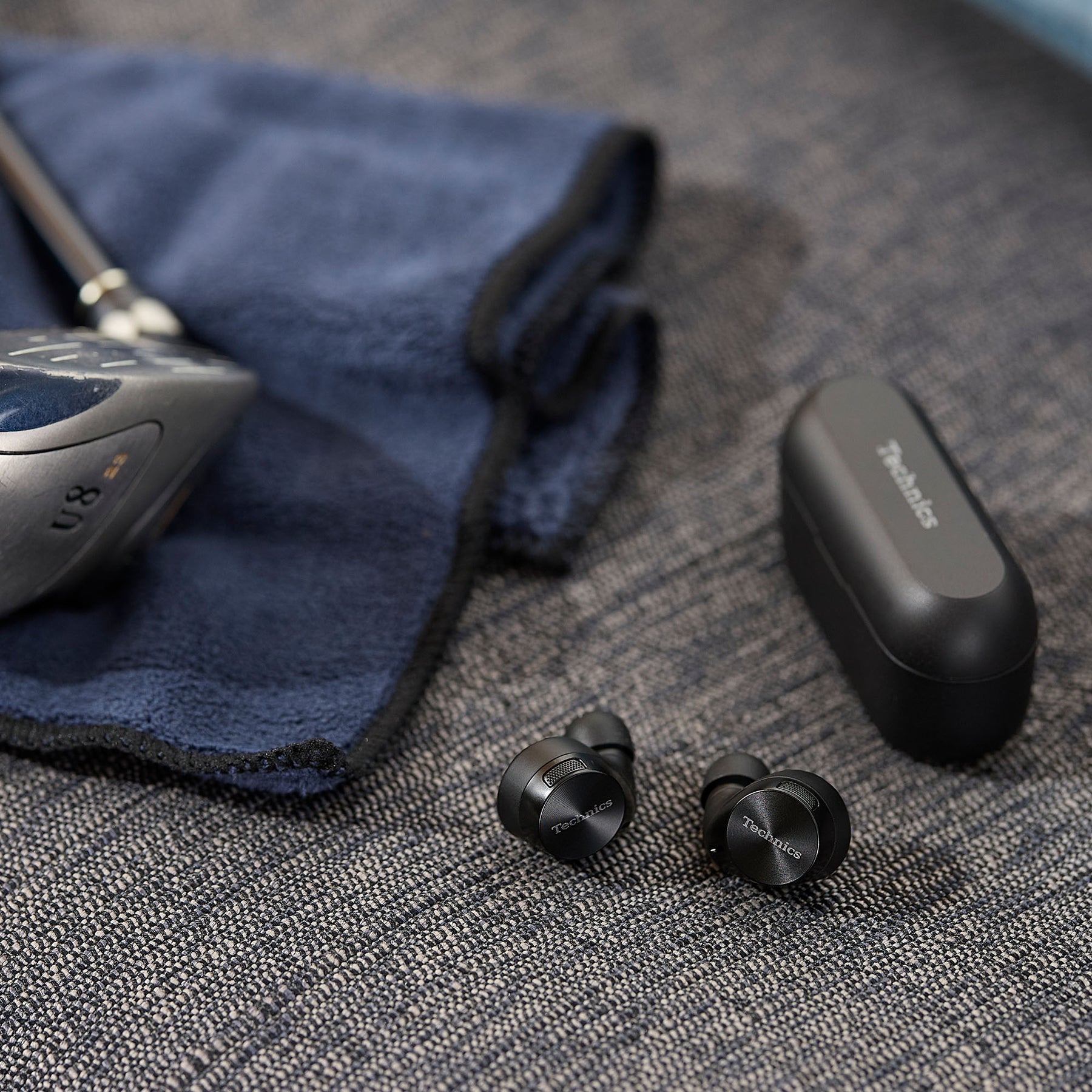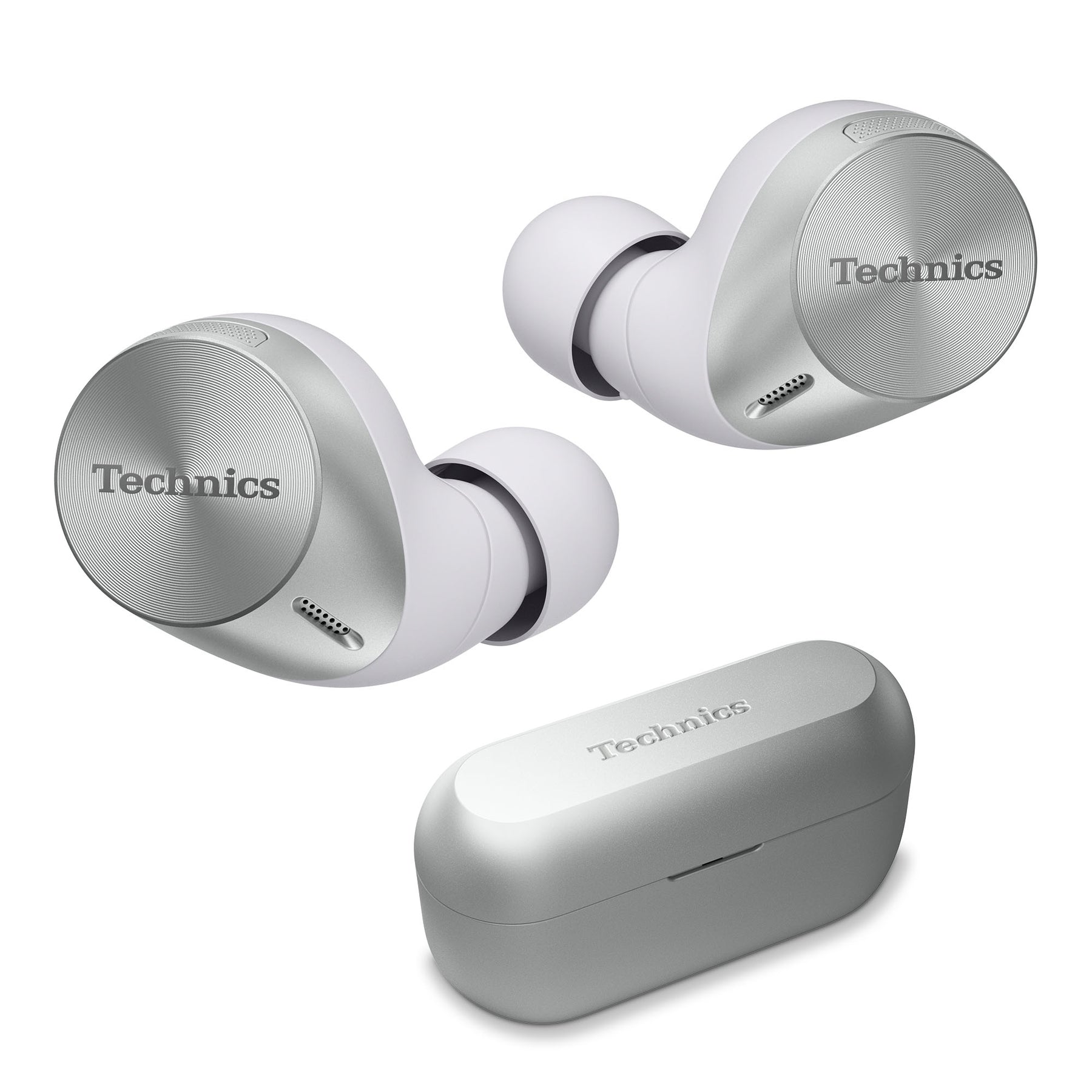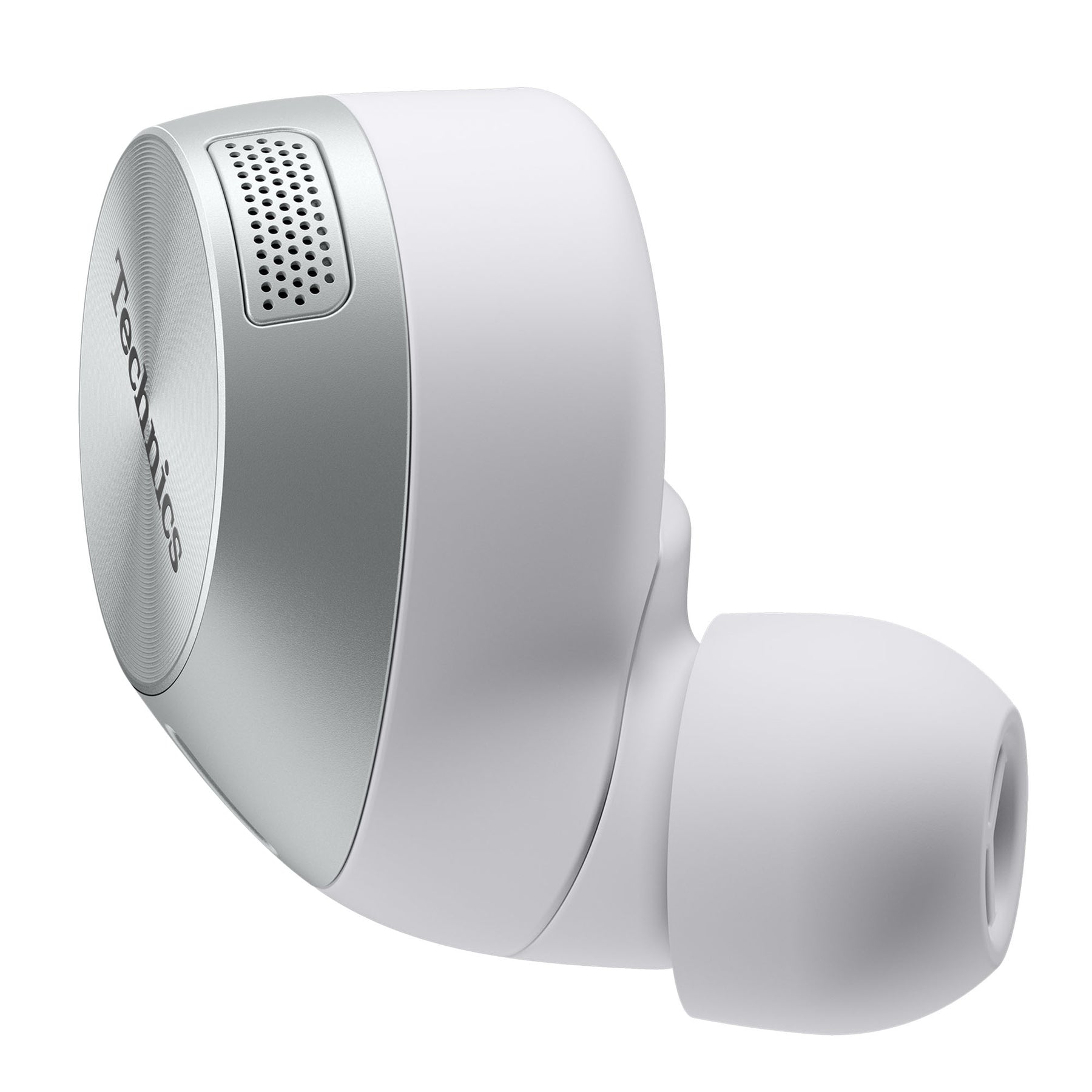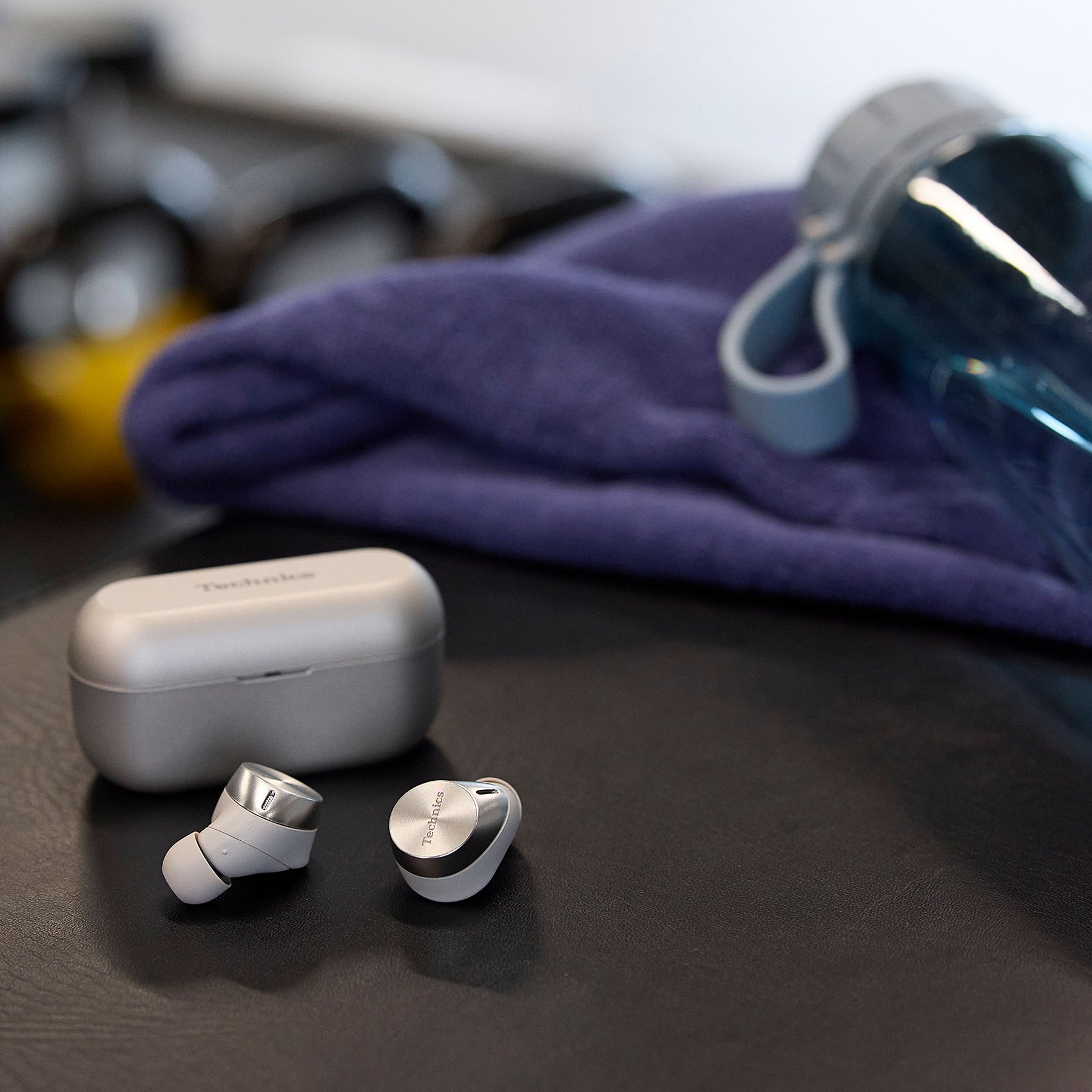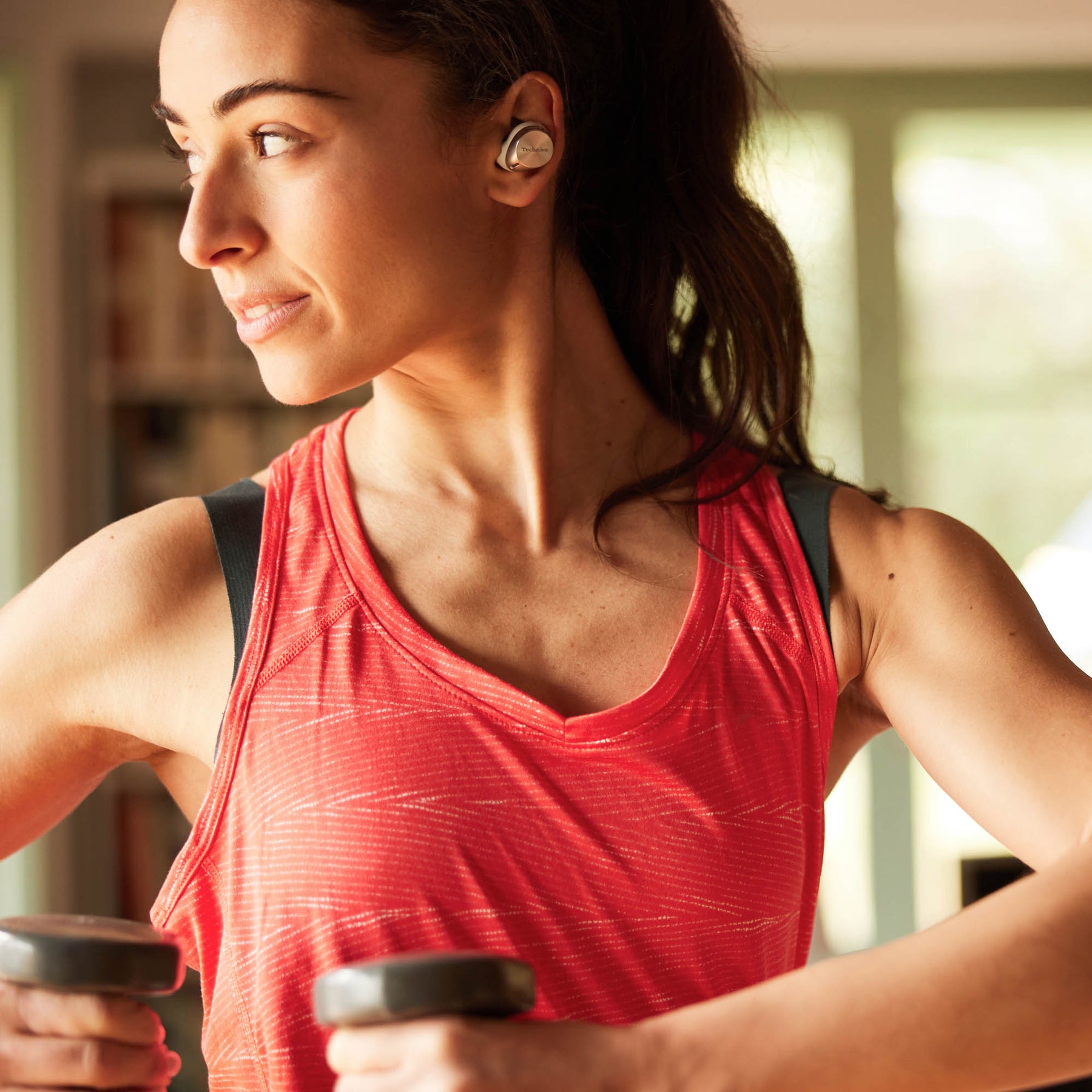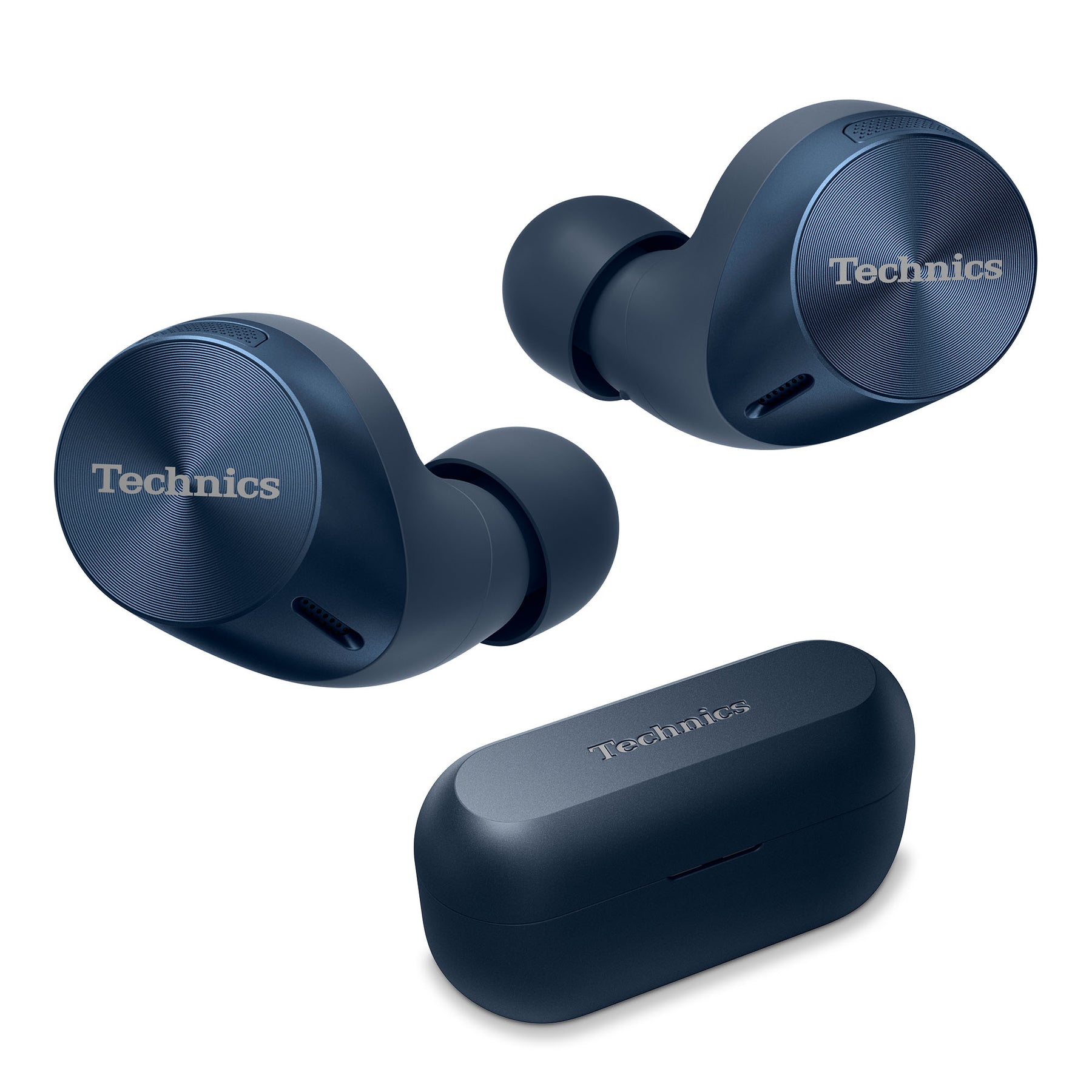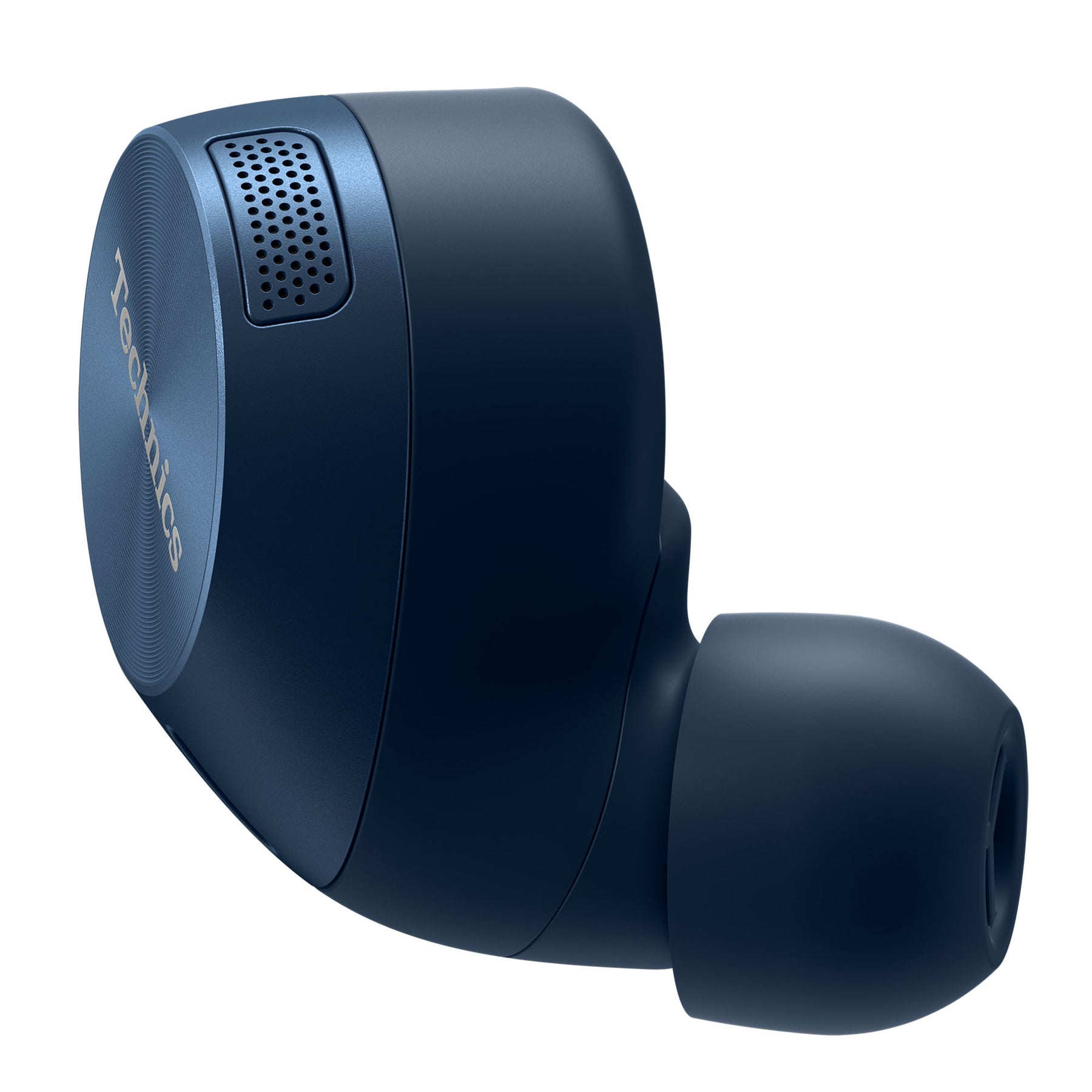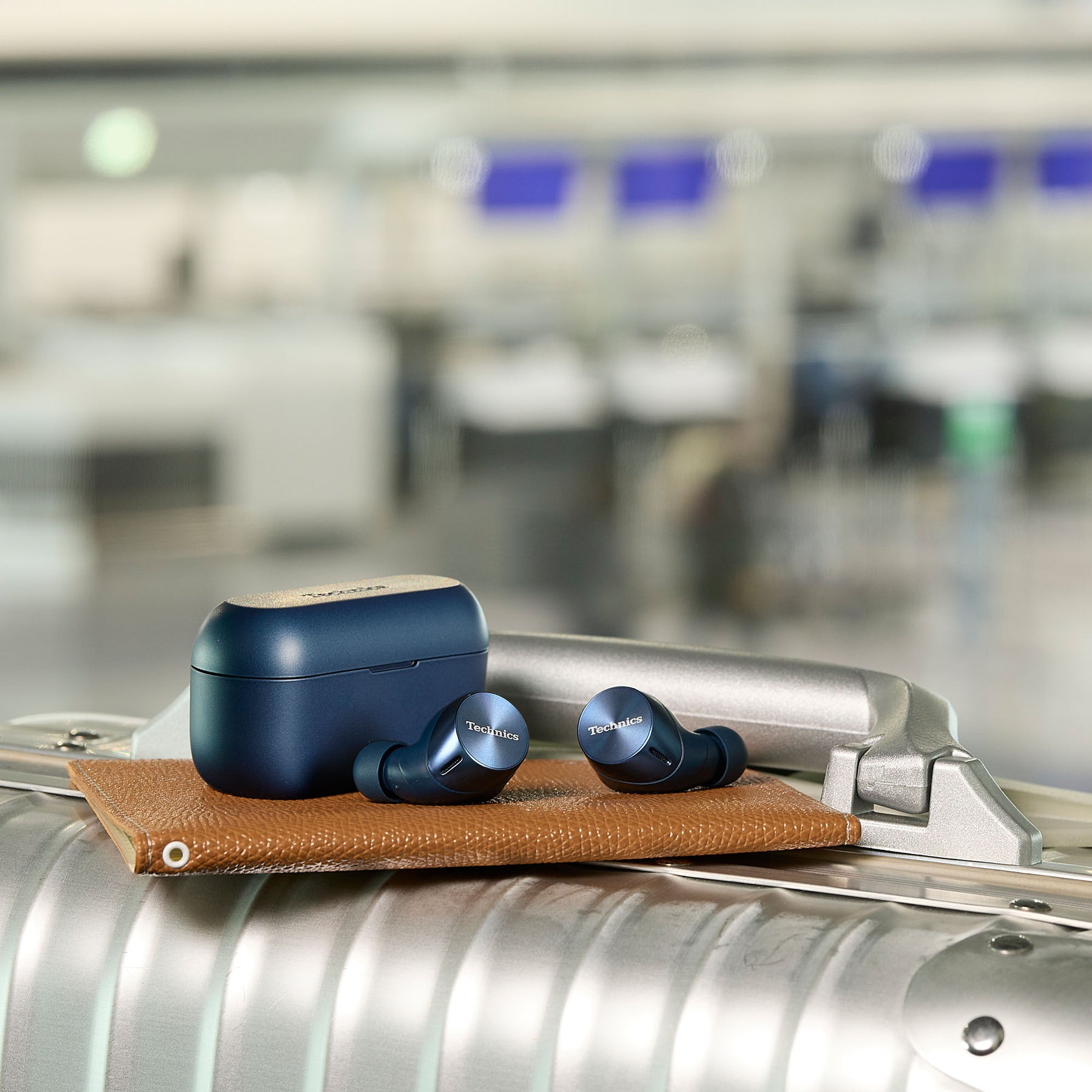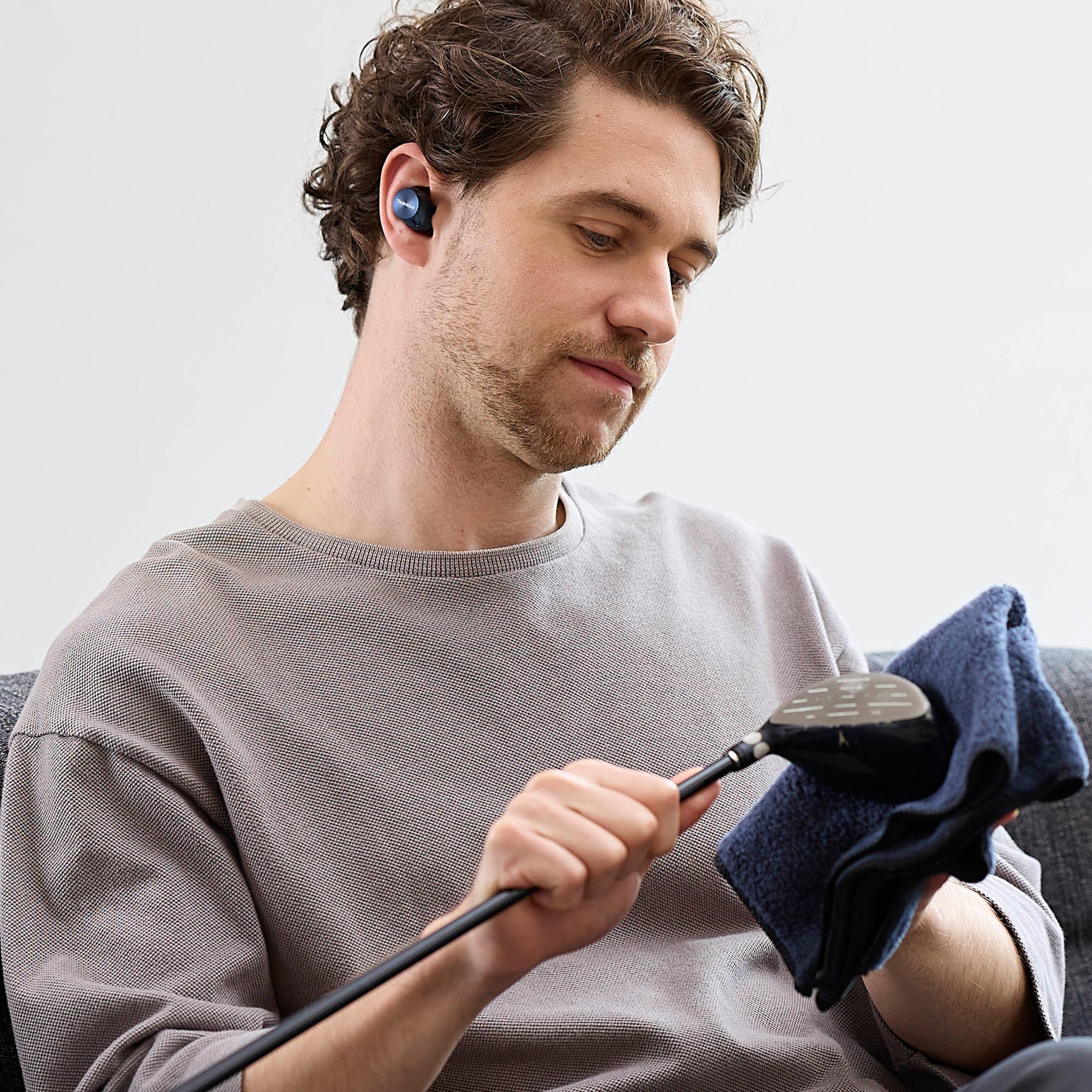 Hi-Fi True Wireless Earbuds II with Noise Cancelling EAH-AZ60M2
Designed for all of your needs from business to leisure, the
powerful, noise cancelling True Wireless AZ60M2 earbuds feature true-to-life sound and sparkling call quality; advanced, industry-leading noise cancellation; and improved JustMyVoice™ technology to keep calls clear. Connects to 3 devices simultaneously.
AZ60M2 True Wireless earbuds let you rediscover music in all of its vividness and detail and take high-priority business calls with clarity. Second-gen JustMyVoice technology uses advanced noise reduction to minimize outside interference on calls. With three-point multipoint connectivity to your computer and all your devices, the AZ60M2 lets you multitask easily, making these earbuds a key player in everyday life.
Experience vivid, textural sound from the 8mm free-edge dynamic driver and unique acoustic structure, with immersive, industry-leading noise cancelling
3-point multipoint connection to your computer and mobile devices, so you can go from leading a meeting to listening to a podcast to taking a call—seamlessly
Improved JustMyVoice technology uses 8 high-sensitivity MEMS mics, a sensitive voice detection signal, and surrounding noise suppression to capture and transmit your voice clearly
Drop design conforms to the contours of the ear for snug stability; 7 sizes of silicone earpieces (XS1, XS2, S1, S2, M, L, and XL) give a customizable fit
Dual Hybrid Noise Cancelling
Yes
Water Resistance
IPX4 Equivalent (Earbuds only)
Driver Unit
8 mm (5/16 in)
Frequency Response
20 Hz - 40 kHz (LDAC 96 kHz/990 kbps)
Earbud Standby Time
Approx. 9 hours (NC ON), Approx. 15 hours (NC OFF, Auto power off does not work)
Supplied Accessory
USB charging cord: Approx. 0.2 m (0.66 ft) (Input Plug : USB Type-C Shape, Output Plug : USB Type-C Shape), Earpieces set : XS1, XS2, S1, S2, M, L, XL (M attached)
Bluetooth Wireless Technology
Supported Profiles
A2DP, AVRCP, HSP, HFP
Operating Distance
Up to 10 m (33 ft)
Charging case / USB
Approx. 2.5 hours
Charging case / Qi *With certified Qi charger
Approx. 3.5 hours
Earbuds with Charging case / USB
Approx. 3.0 hours
Earbuds Quick Charge (15 minutes, AAC)
Approx. 70 minutes (NC ON)
Earbuds
Approx. 7.0 hours (NC ON), Approx. 7.5 hours (NC OFF)
Earbuds with Charging case
Approx. 24 hours (NC ON), Approx. 25 hours (NC OFF)
Earbuds
Approx. 4.5 hours (NC ON), Approx. 5.0 hours (NC OFF)
Earbuds with Charging case
Approx. 16 hours (NC ON), Approx. 17 hours (NC OFF)
The Bluetooth® word mark and logos are registered trademarks owned by Bluetooth SIG, Inc. and any use of such marks by Panasonic Holdings Corporation is under license. Other trademarks and trade names are those of their respective owners.
LDAC and LDAC logo are trademarks of Sony Corporation.
Earbuds (one side only: L and R are the same)
Approx. 7 g (0.25 oz)
Technics Signature Quality in Sound and Design
A Sophisticated, Comfortable Earbud Made for Business and Pleasure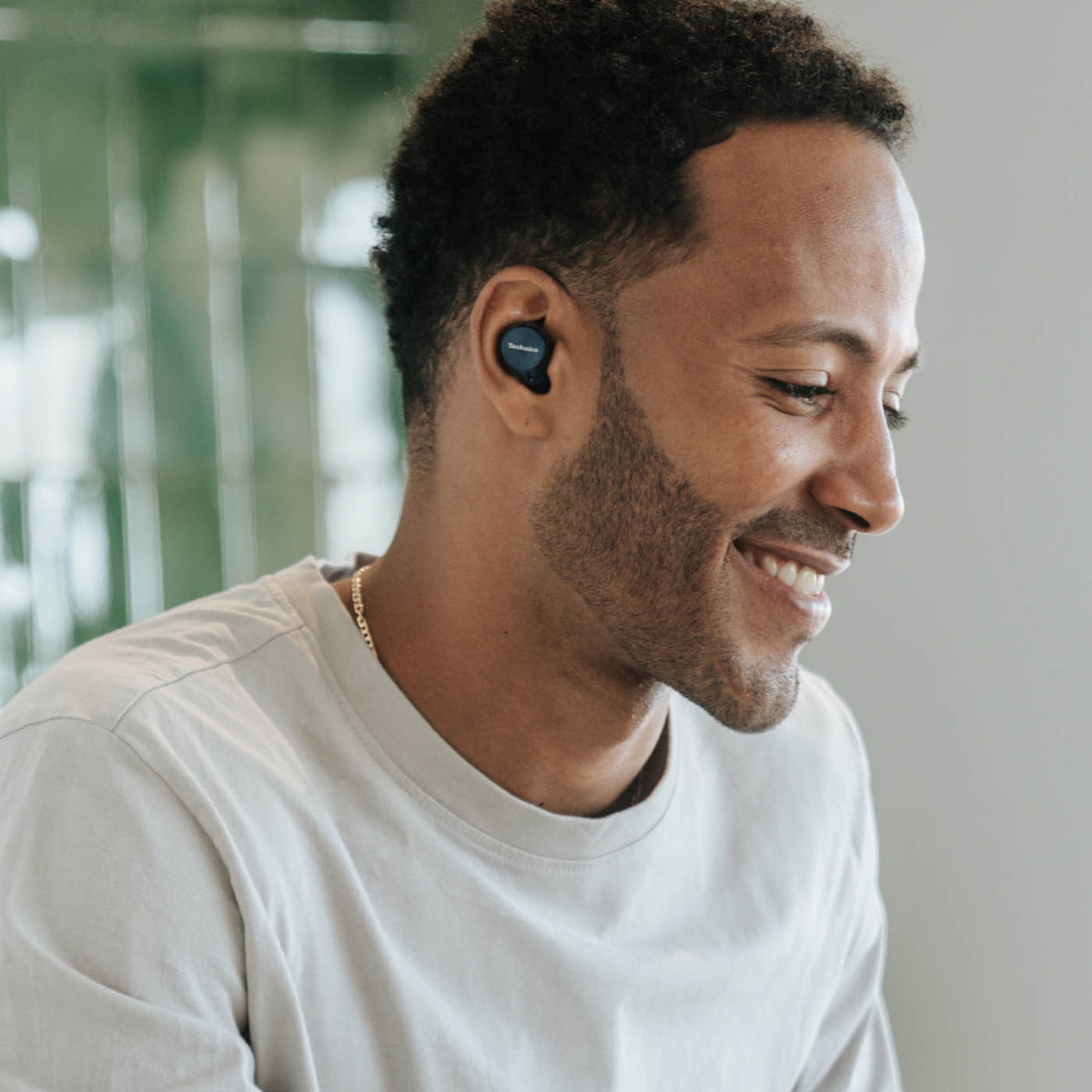 Vivid, Textural Sound
True-to life sound, with expressively detailed music and advanced, industry-leading noise cancelling. Supports LDAC™ high-res wireless
audio.*
*Delivered in 96 kHz/24-bit LDAC, when connected by Bluetooth® to a compatible evice.
Intuitive, Smart Features
3-point multipoint connection lets you connect to 3 devices for smooth, professional multitasking. Plus, get crystal-clear call clarity with enhanced JustMyVoice™ technology, convenient single-earphone use, easier than ever sound control, and long battery life.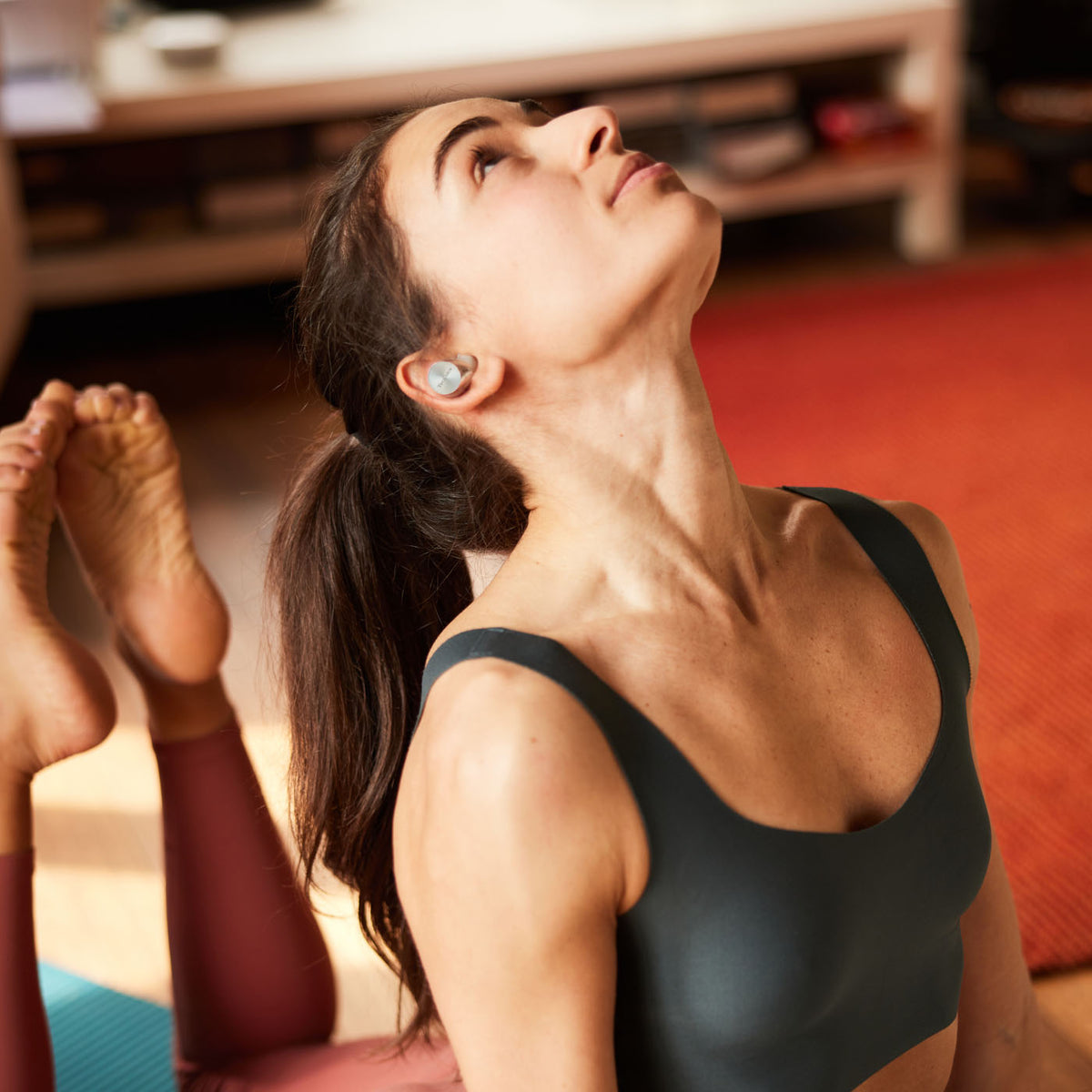 All Day Comfort
Low-profile design for comfort throughout the day, and balanced to stay put – even when you're on the go.
Never Miss a beat
SIGNATURE TECHNICS CLEAR SOUND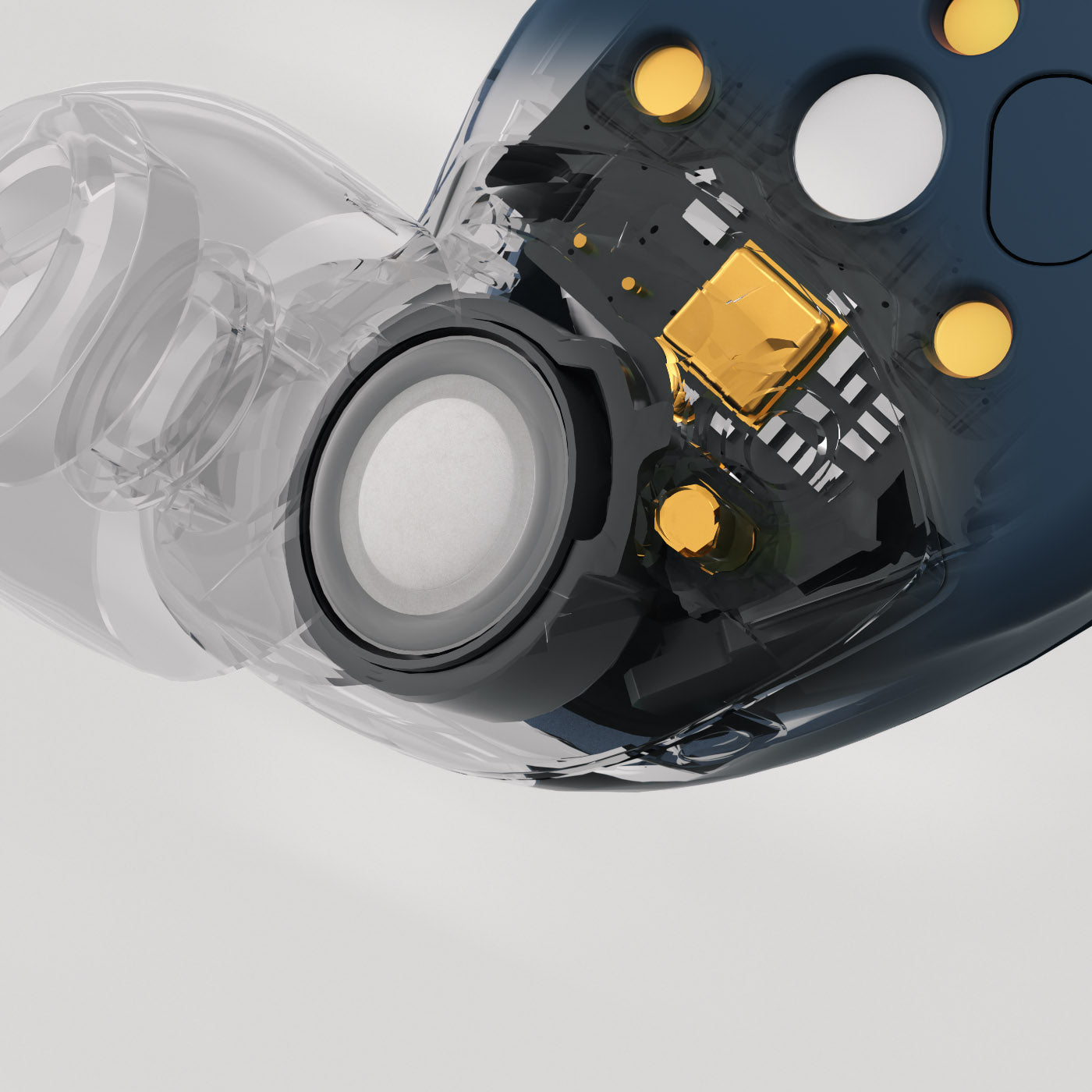 Feel the Music
Feel detailed rich, expansive sound from the uniquely designed acoustic chamber, harmonizer and 8mm drivers. Compatible with LDAC™ high-res wireless audio* for step-up sound.
*Delivered in 96 kHz/24-bit LDAC, when connected by Bluetooth® to a compatible device.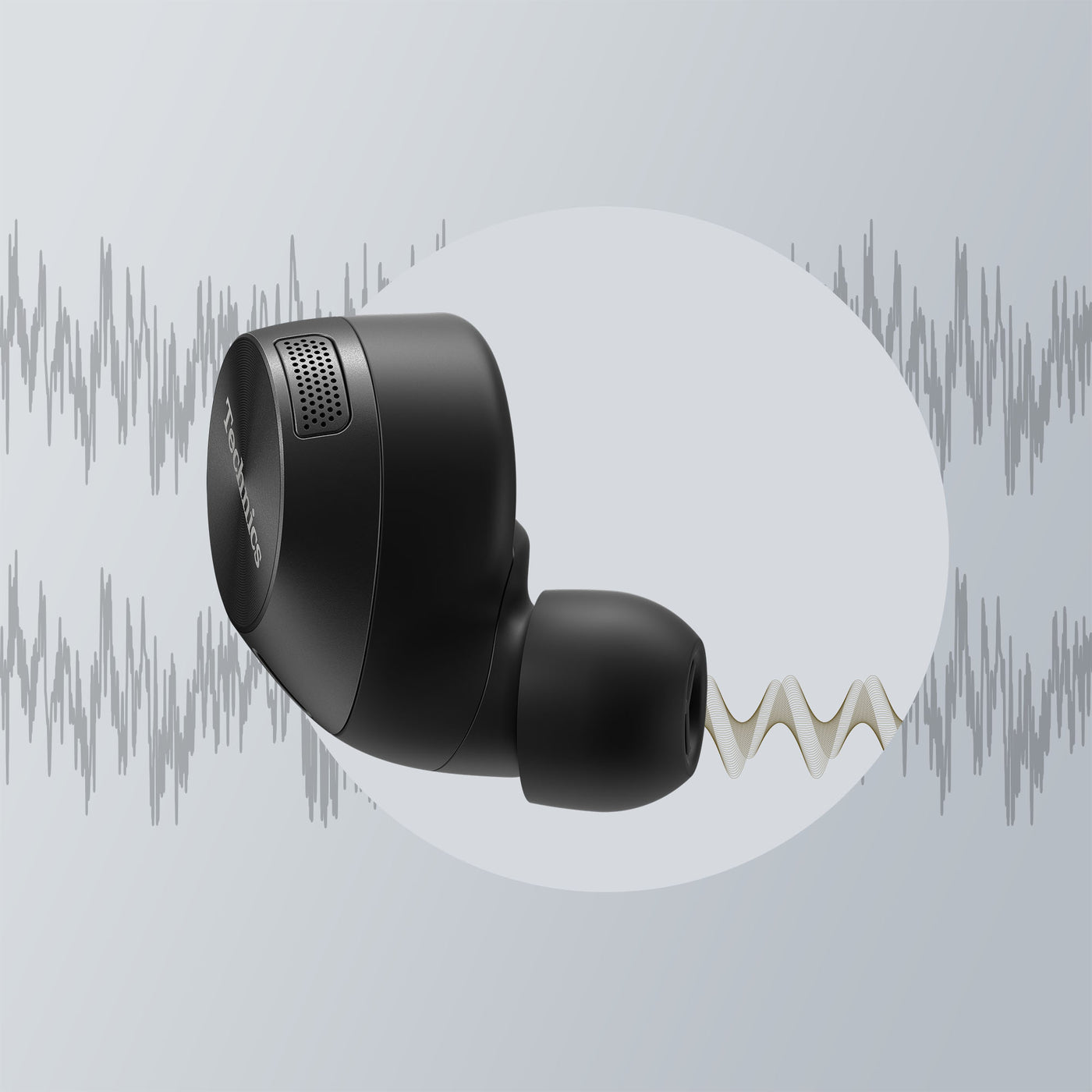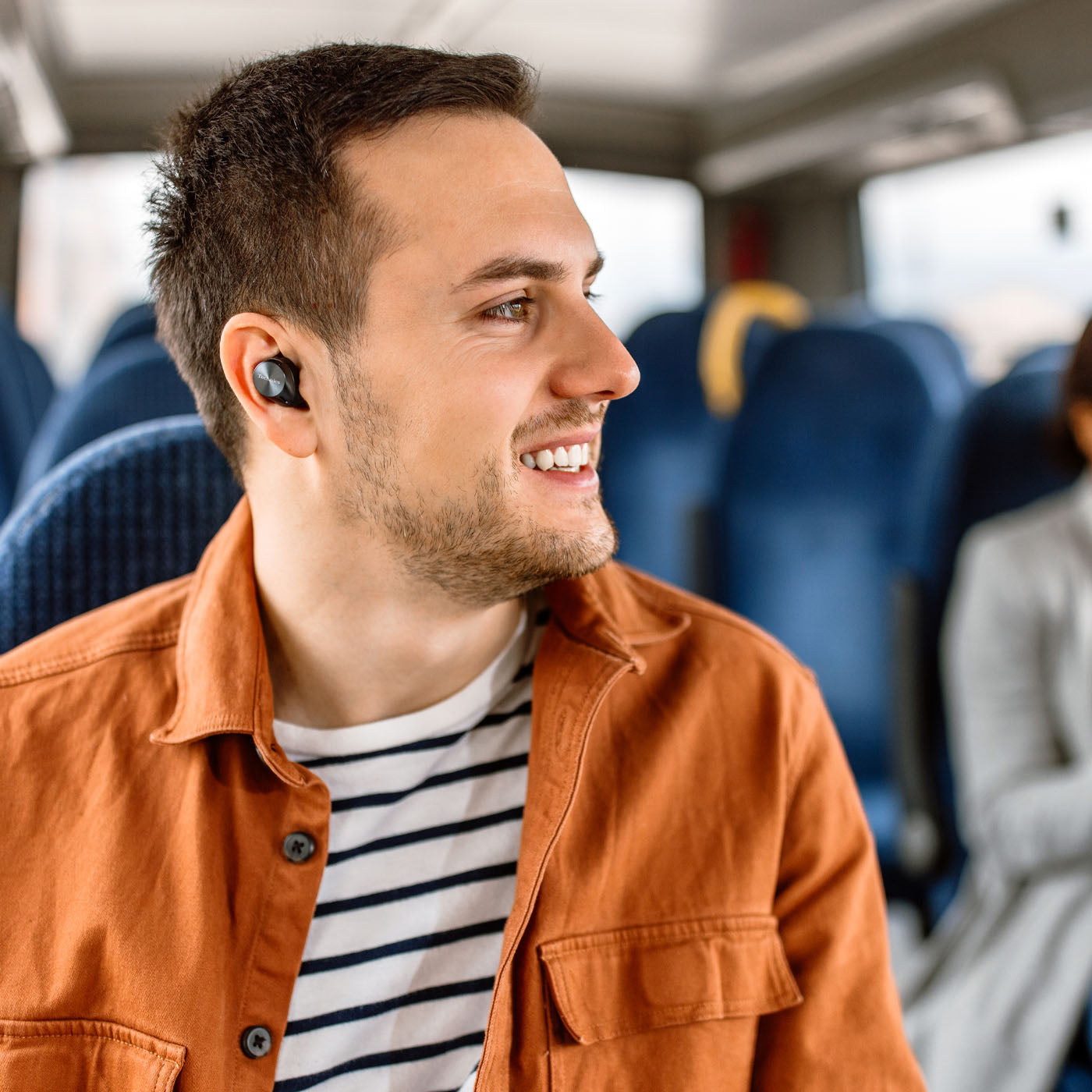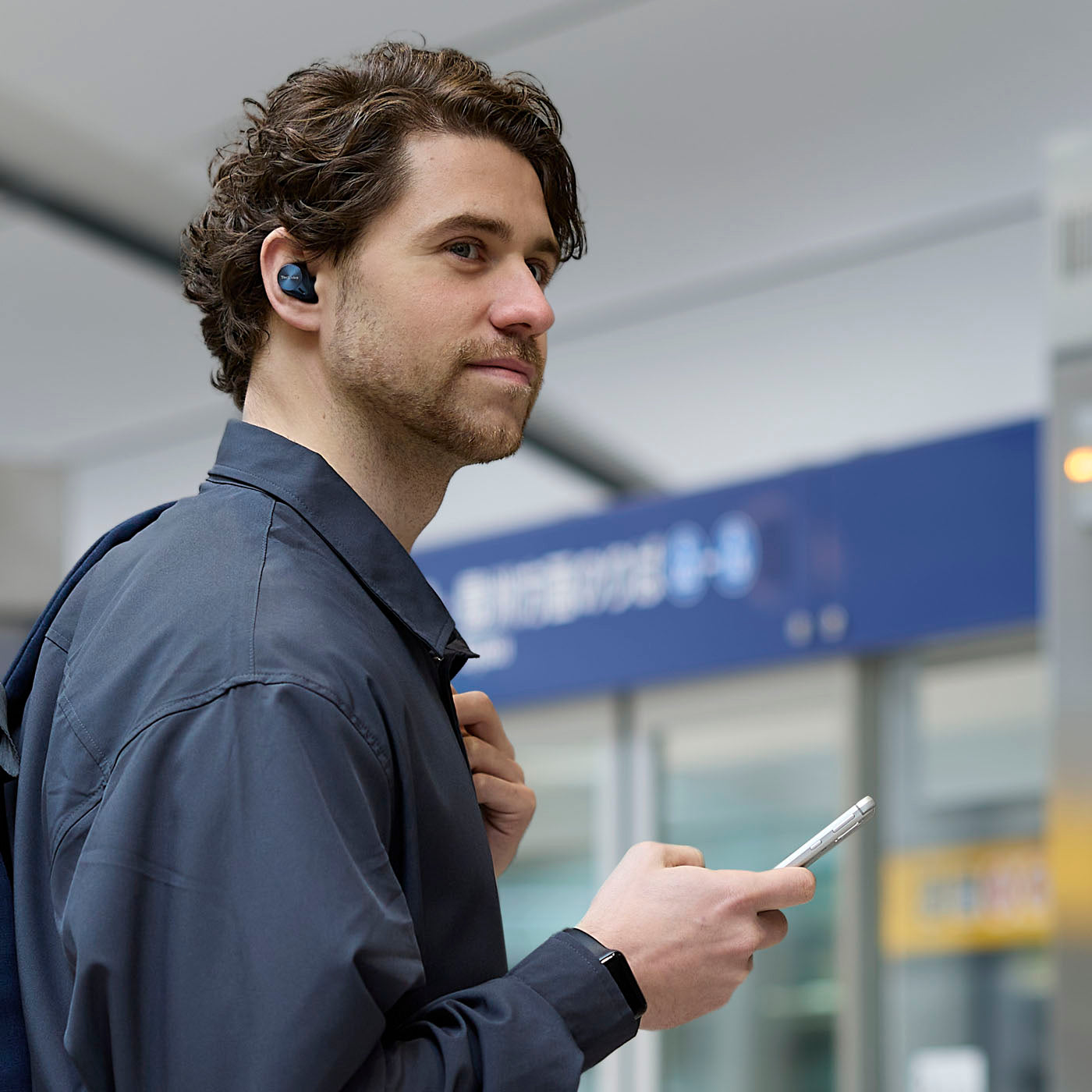 Industry-Leading Noise Cancelling
Engineered for Advanced Noise Cancelling
Dual Hybrid Active Noise Canceling technology uses feedforward and feedback mics plus analog and digital processing for uninterrupted hi-fi sound performance.

*Technics research using JEITA guidelines for true wireless noise cancelling headphones as of March 2023.
CONTROL THE SOUND AROUND YOU
Natural Ambient Mode
Natural ambient mode comprehensively captures voices and other surrounding sounds, leading to a more natural sound similar to not wearing headphones at all. Captures wide range of sound from low to high frequencies.
CONTROL THE SOUND AROUND YOU
Attention Mode
Attention mode reduces unwanted external noise to make it easier to hear peoples' voices. It's perfect when you need to hear airport announcements, etc.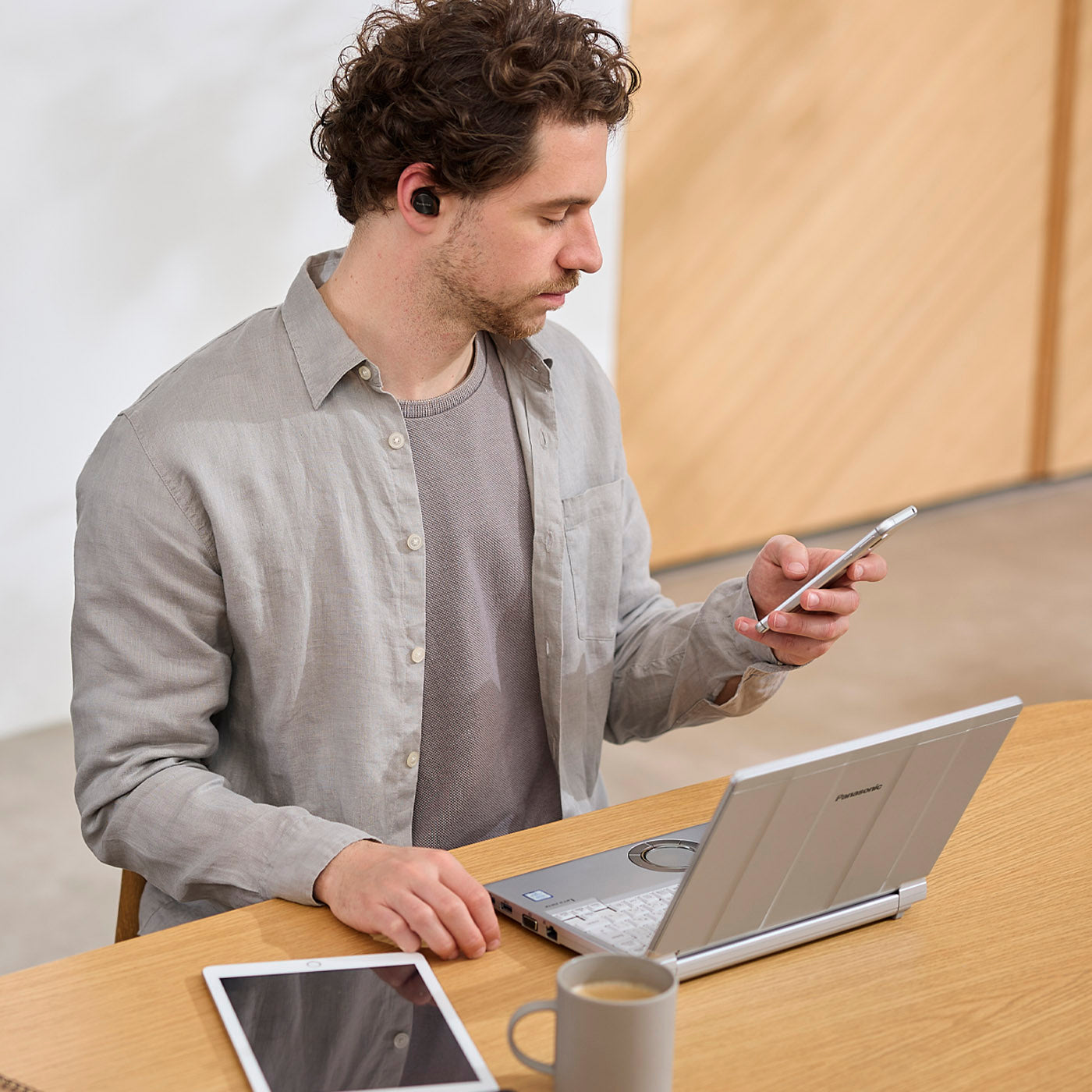 Connect To More
MULTIPOINT CONNECTION TO 3 DEVICES
Now you can seamlessly connect to and switch between 3 Bluetooth-enabled devices*
*No LDAC playback with 3 devices..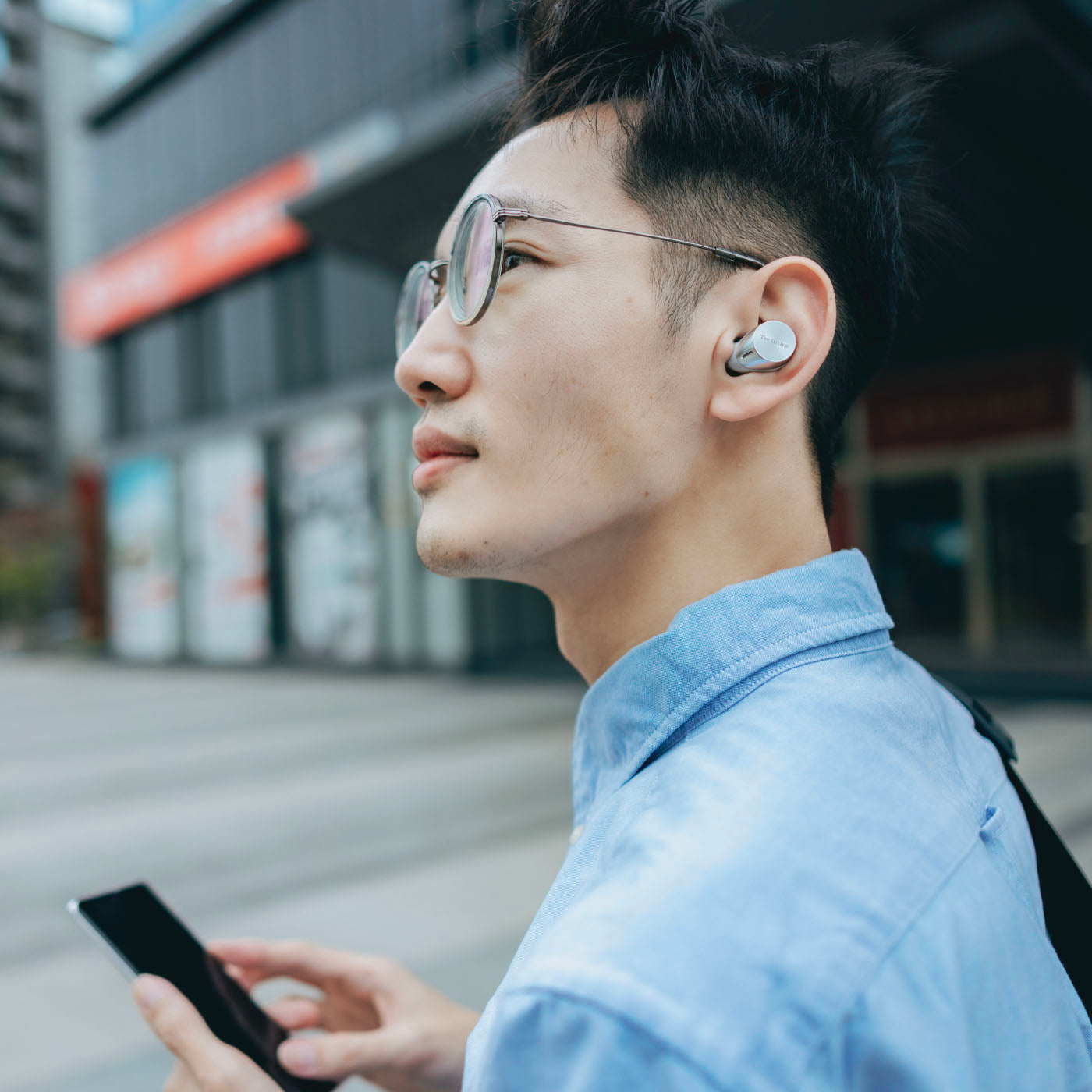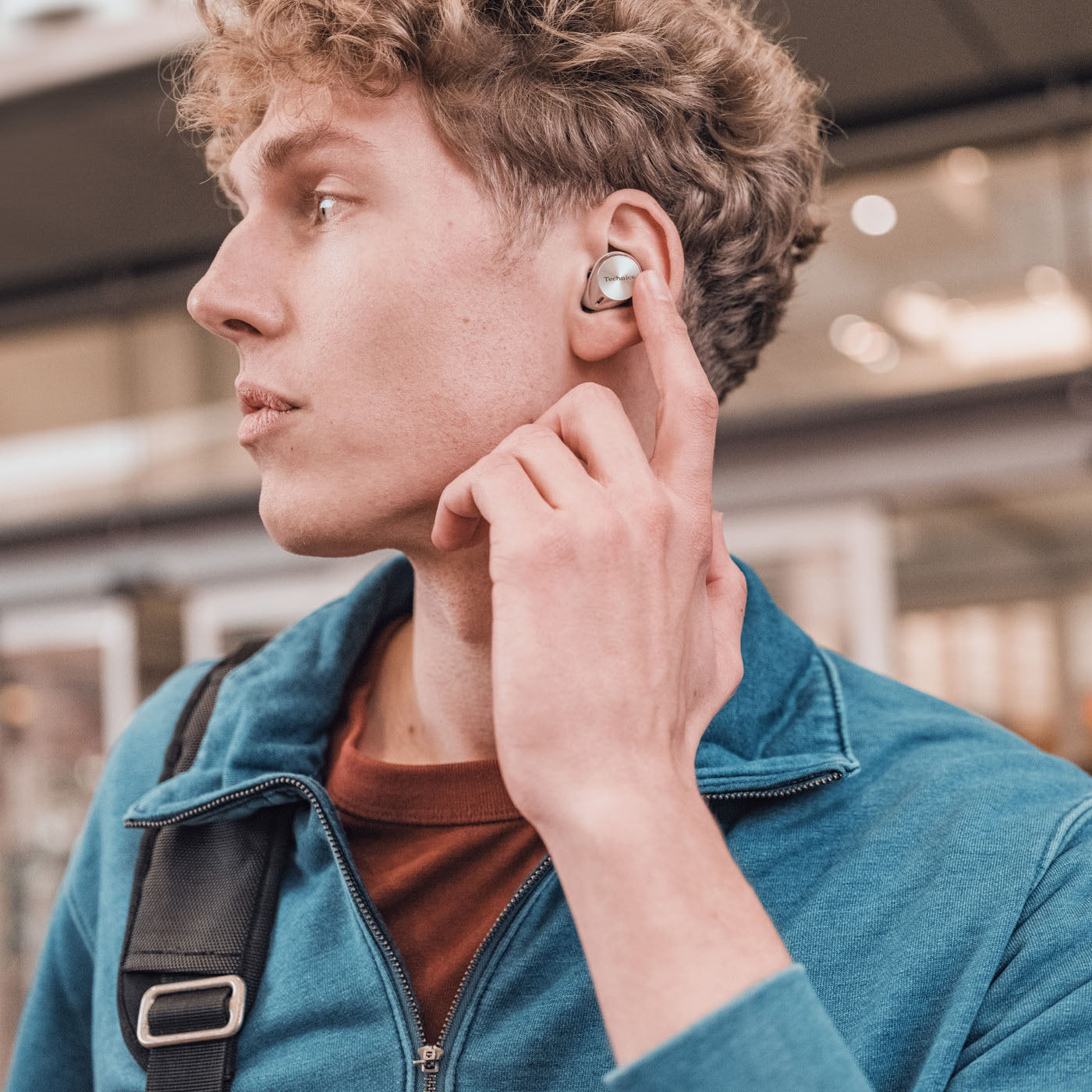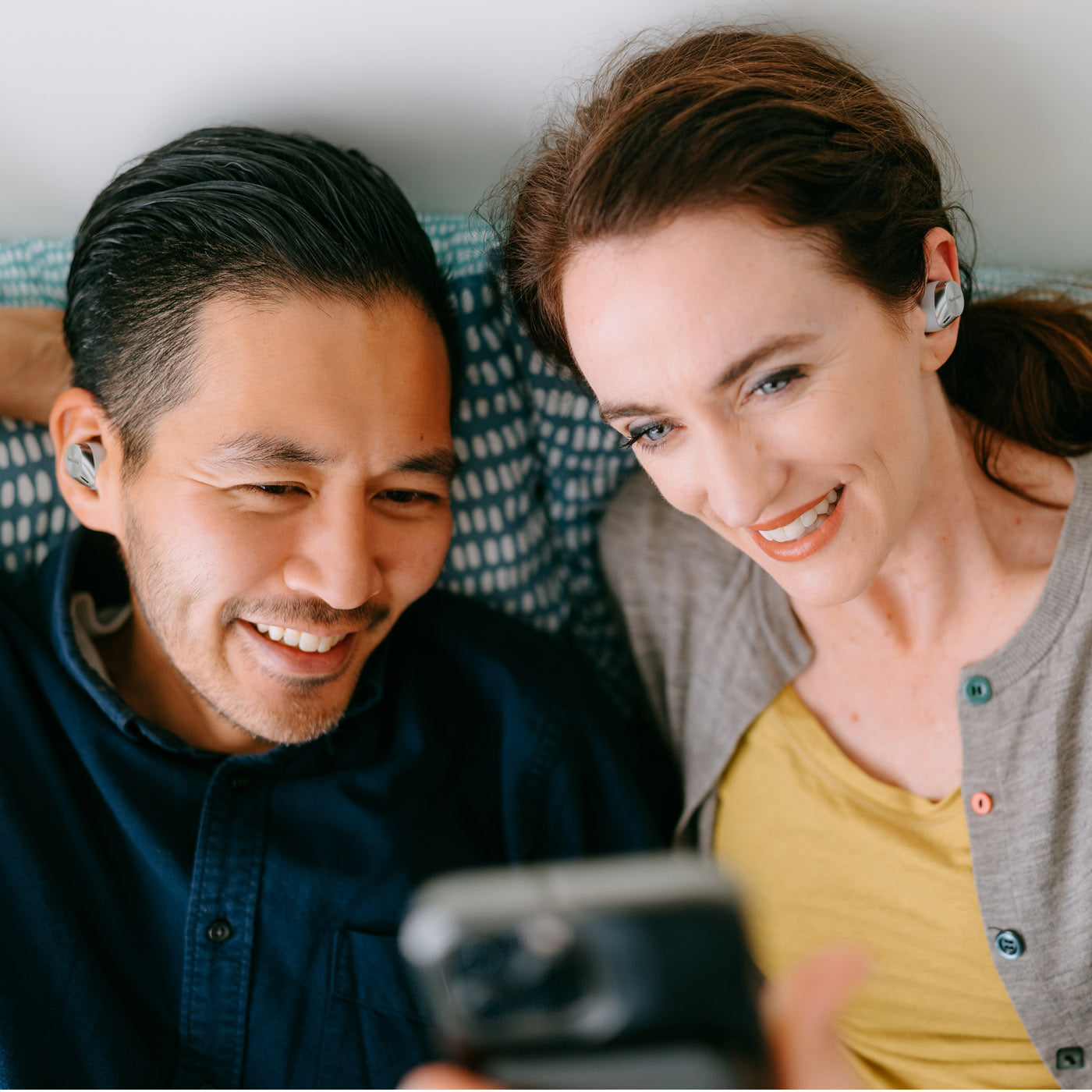 Clearer-than-Ever Calls
Enhanced JustMyVoice™ Technology
Enjoy crystal-clear call clarity through improved JustMyVoice technology. Eight separate mics plus advanced wind noise reduction isolate and amplify speech while minimizing background noise.
*Performance may be affected by external factors
YOU'RE IN CONTROL
CONTROL AT YOUR FINGERTIPS
Touch sensors control on/off, track forward and back, taking and ending calls, and so much more. They're completely customizable, too (through the Technics Audio Connect app).
KEEP AN OPEN EAR
Single Earbud Use
Keep one ear open, or charge one earphone while using the other. Or, share an earphone with a friend when you want to enjoy the same content together.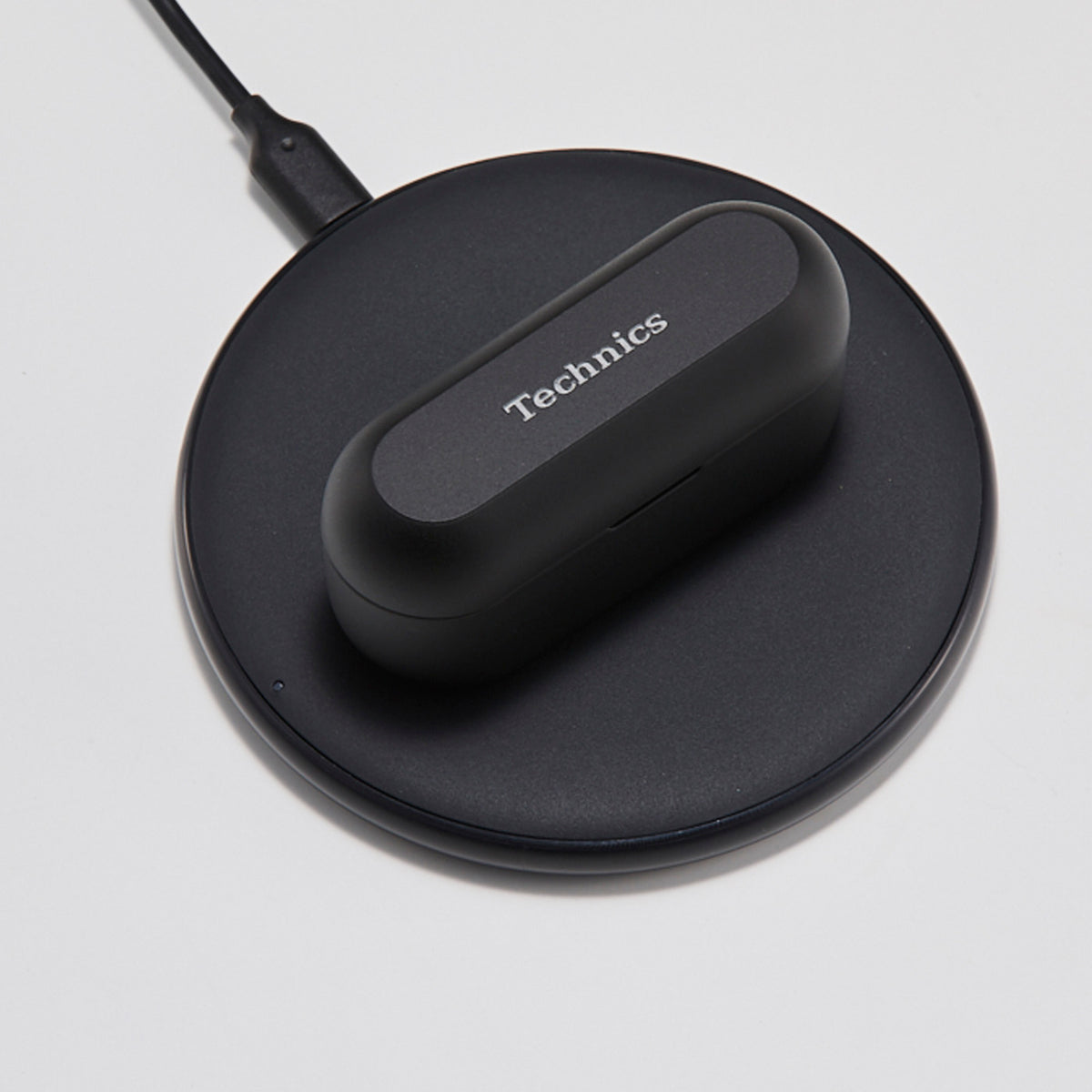 Easy Wireless Qi Charging
Elegant earbud case for wireless charging helps you create an organized, clutter-free home and office.
*Qi wireless charger sold separately.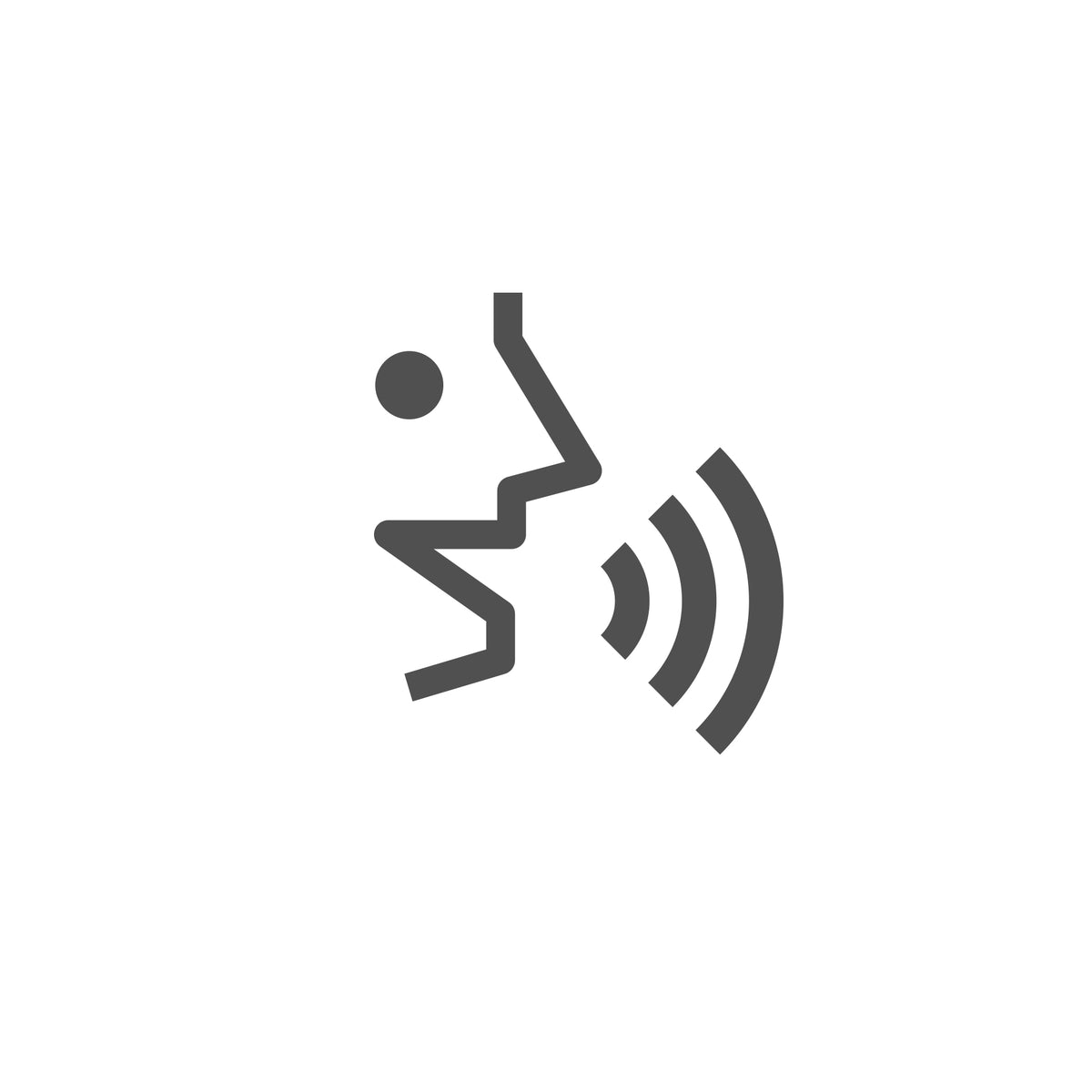 Connect to Voice Assistants
Activate your preferred voice assistant by pressing the earbud's touch sensor.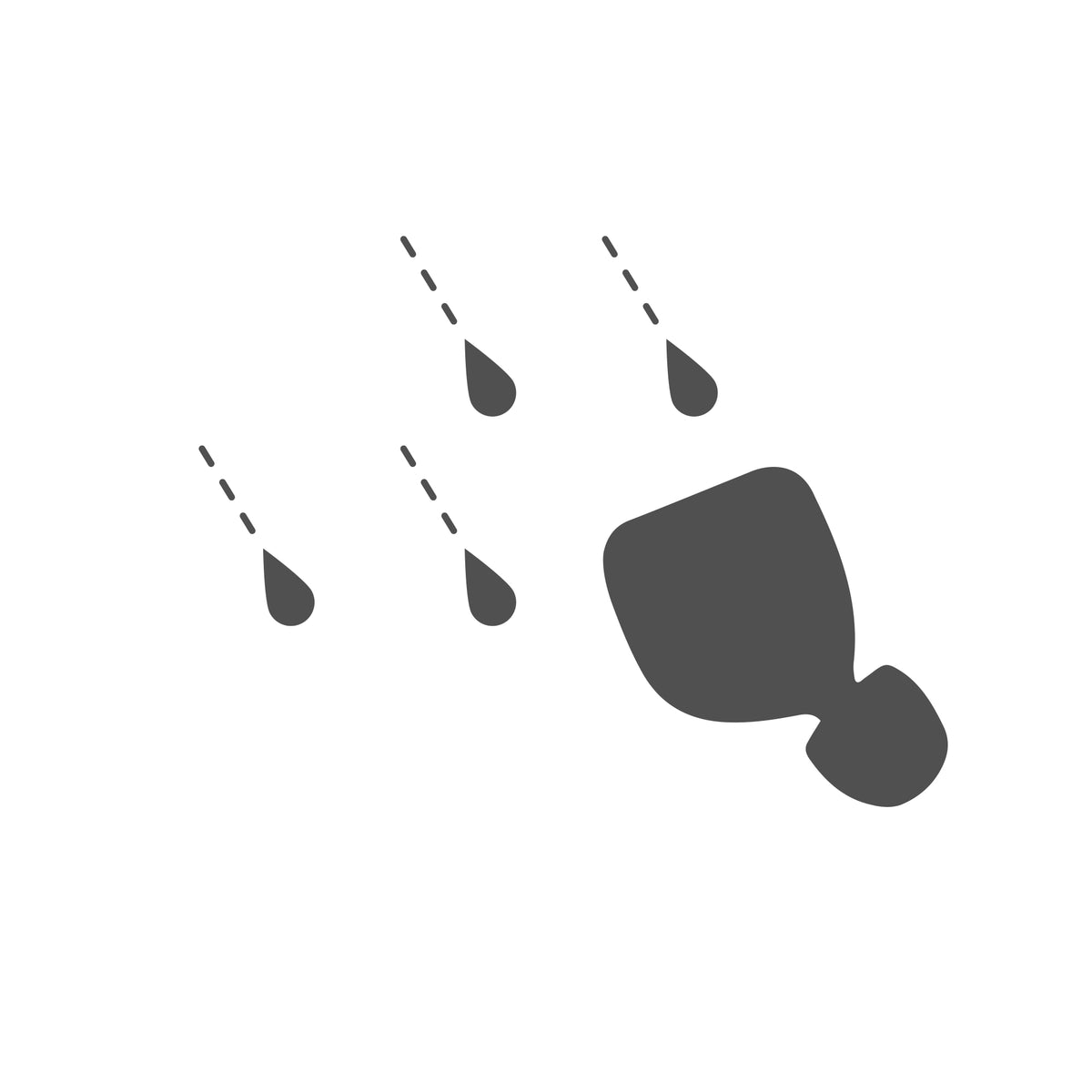 IPX4 Water Resistant Design
With IPX4* water resistance for the real world – with no worries about rain or intensive workouts in the gym.

*IPX4 compatibility for earphones, not charging case.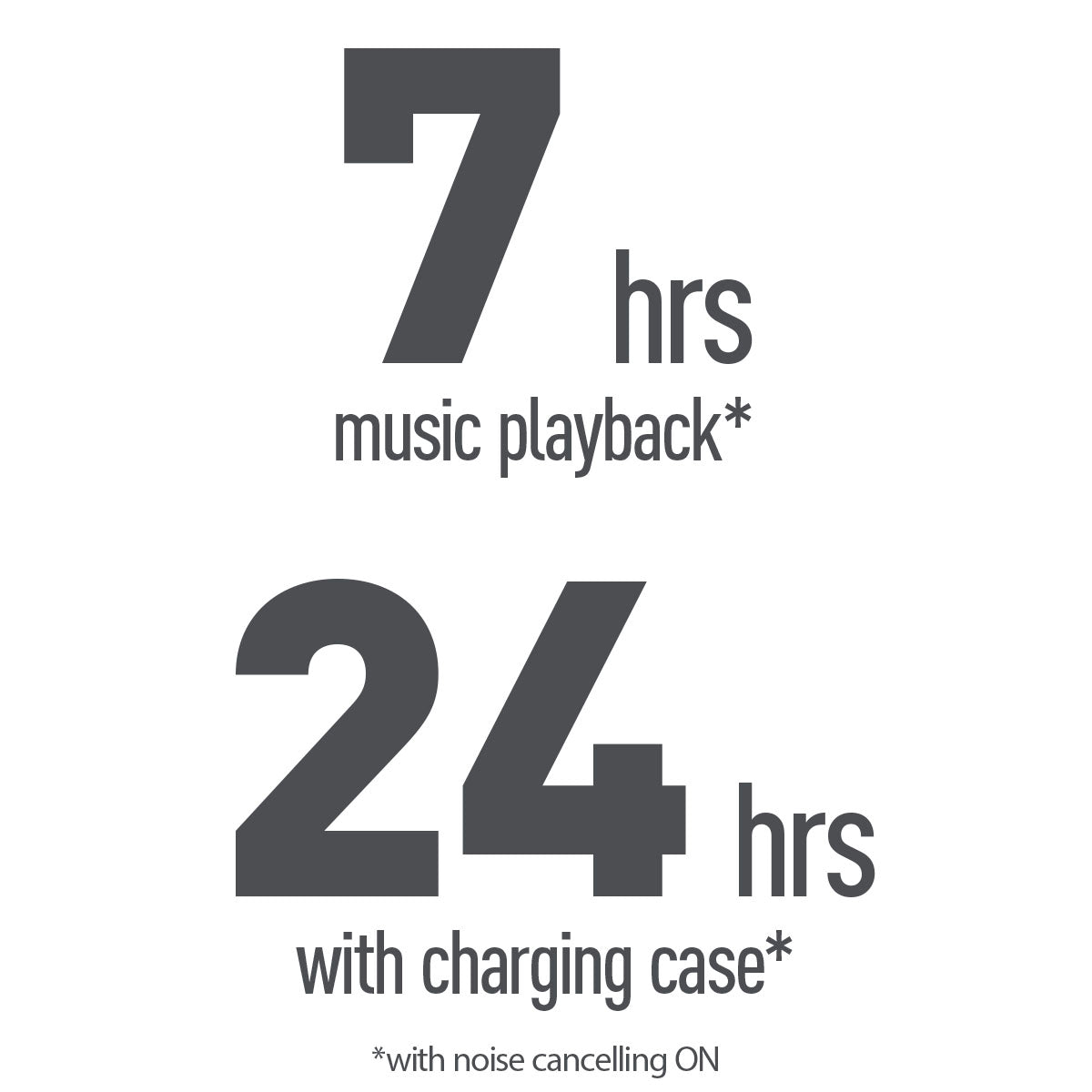 Extra-Long Battery Life
Up to 7 hours* playback with ANC on, 24 hours back-up with the case. Quick charge for 70 minutes of playback.
*After a full charge, subject to playback volume and other
factors.
ALL DAY COMFORT, HIGH-END DESIGN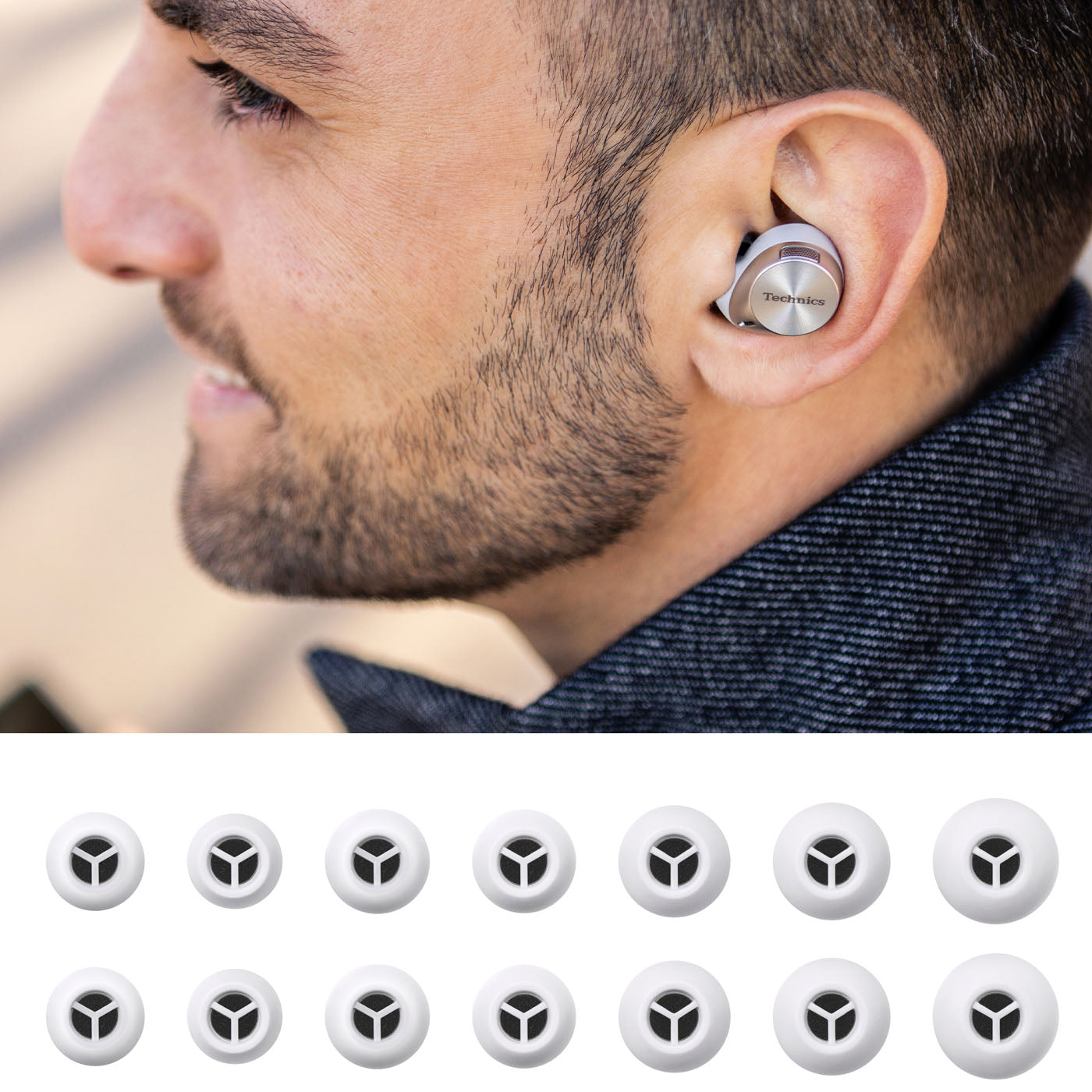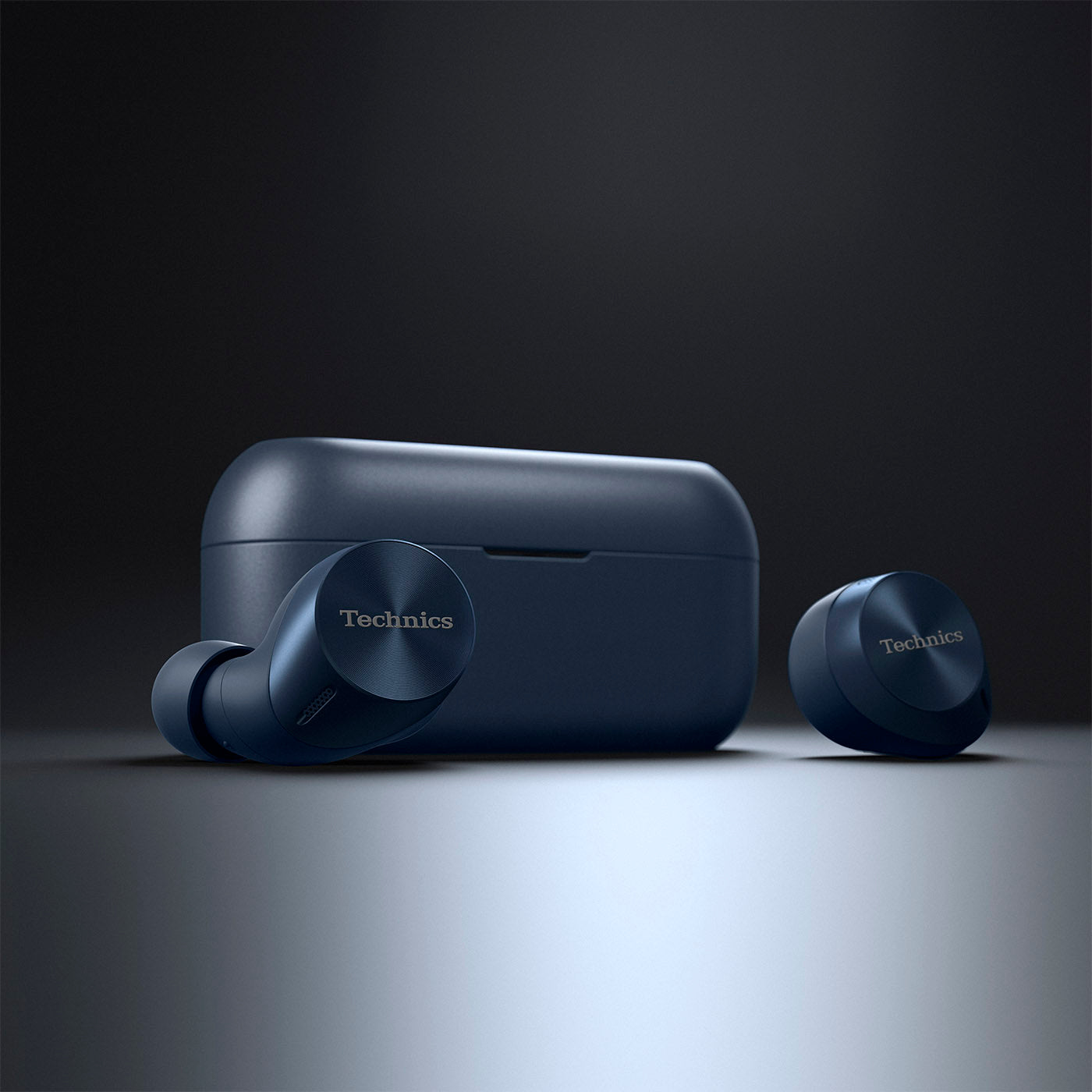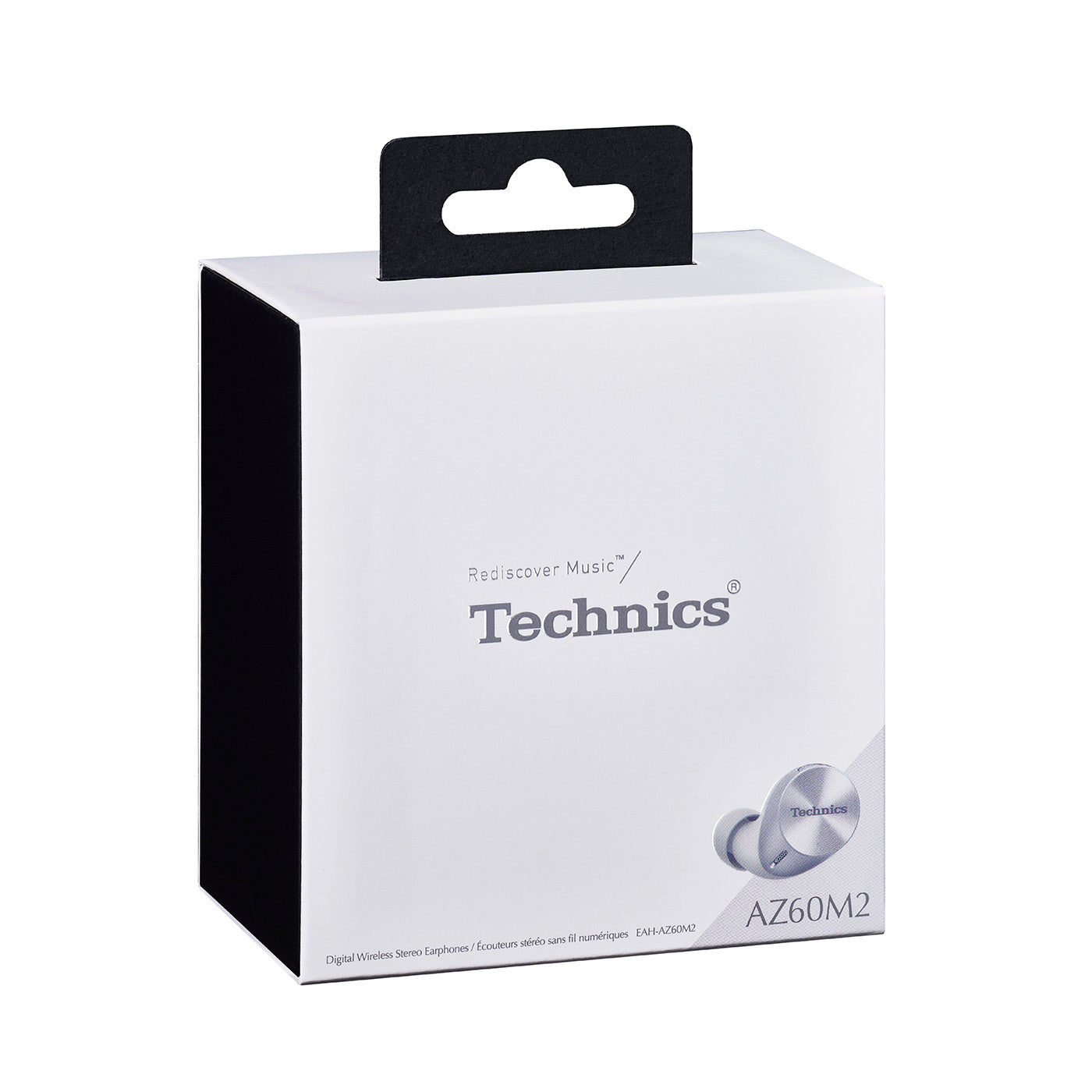 Comfortable, all-day wear
Ergo-Fit, Comfortable Design
A low-profile ergonomic design, provides a the ultimate in comfort, with seven earpiece sizes that ensure a snug in-ear fit anywhere you go with no audio loss.
High-End Design
High-Quality Craftmanship
Built to last, with a pleasing and reassuring tactile quality for both earphones and charging case.
GREEN IMPACT
100% Plastic-Free Packaging
We've gone plastic-free on our AZ60M2 packaging, and reduced the package size too.
CUSTOMIZE YOUR SOUND EXPERIENCE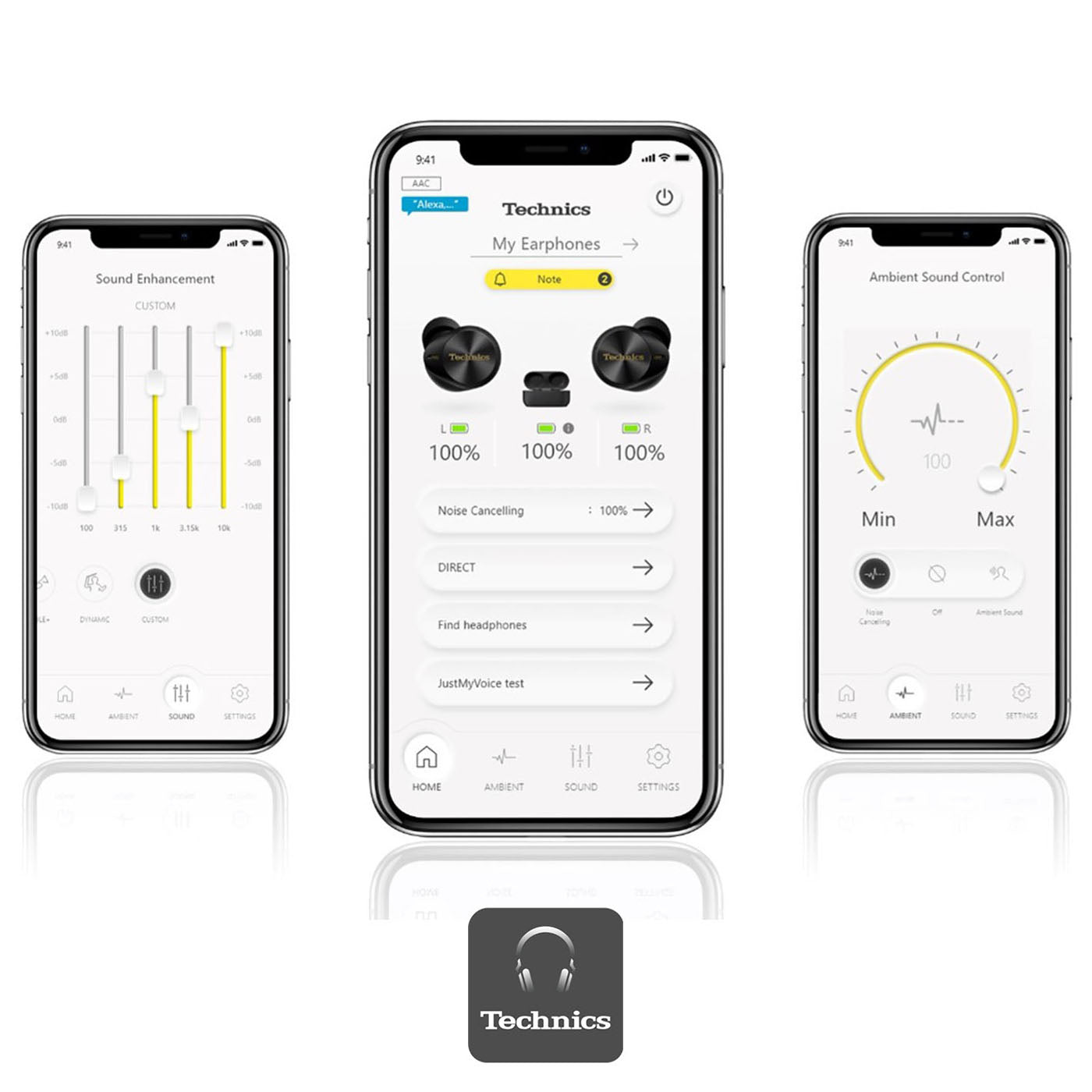 TECHNICS AUDIO CONNECT APP
Sound — How You Want to Hear It
Technics Audio Connect app lets you delegate features to the
touch sensors, select Ambient/Attention modes to get the desired balance of background sound and speech, and customize your music (EQ, spatial audio, etc.)
What's the difference?
Technics EAH-AZ60M2 vs. AZ60
The AZ60M2 Earbuds let you connect to 3 Bluetooth devices simultaneously, instead of 2 devices with the AZ60.
We've added Qi Wireless Charging compatibility to the Technics AZ60M2 Earbuds and Wear Detection to automatically pause playback when the earbuds are removed from the ear, and resume when they are put back in.
We've also upgraded JustMyVoice technology which includes improved clarity of your voice, especially in windy environments, and a better suppression of background noise.
In an effort to minimize our environmental impact, we've reduced the size of our packaging for our new AZ60M2 earbuds, and made it 100% plastic-free.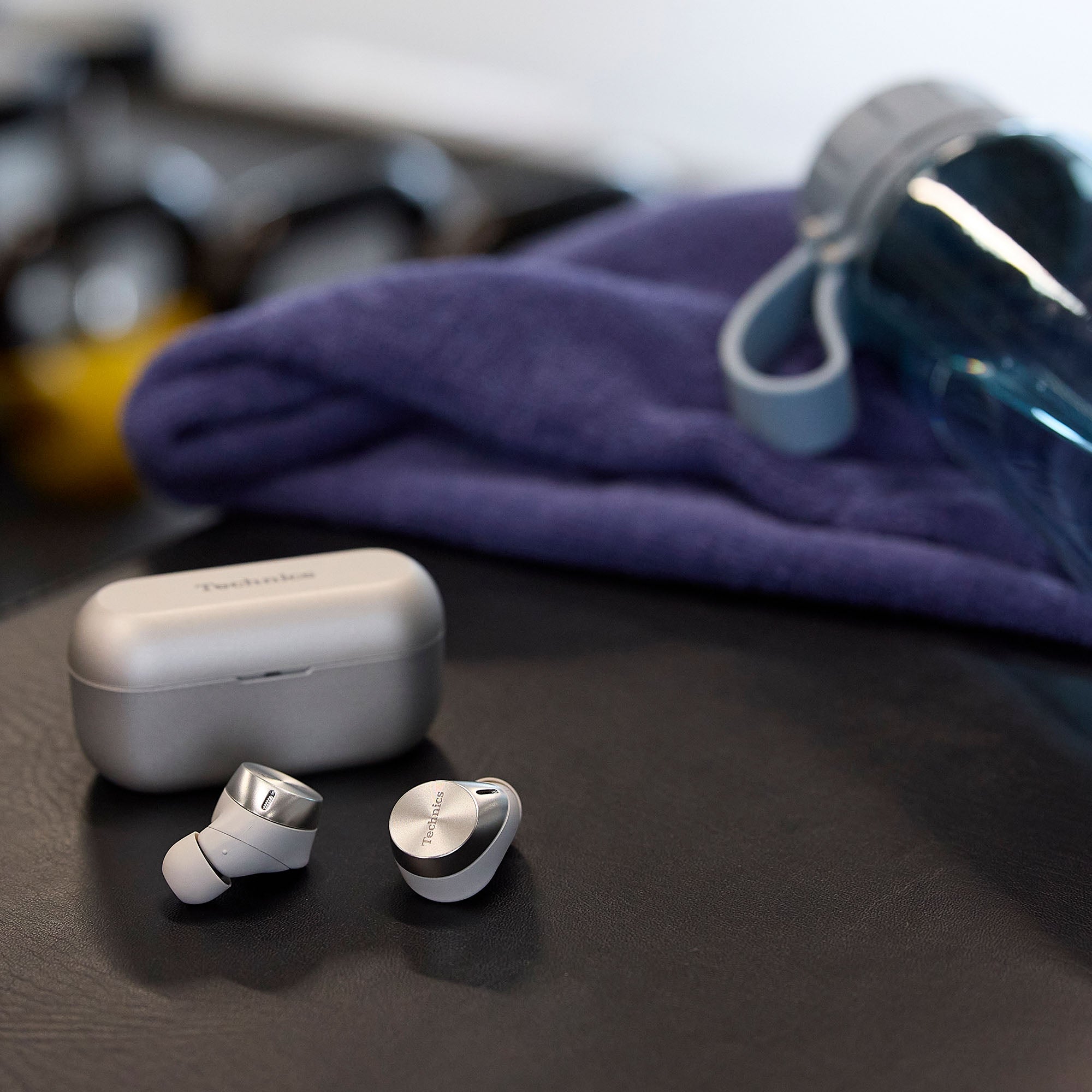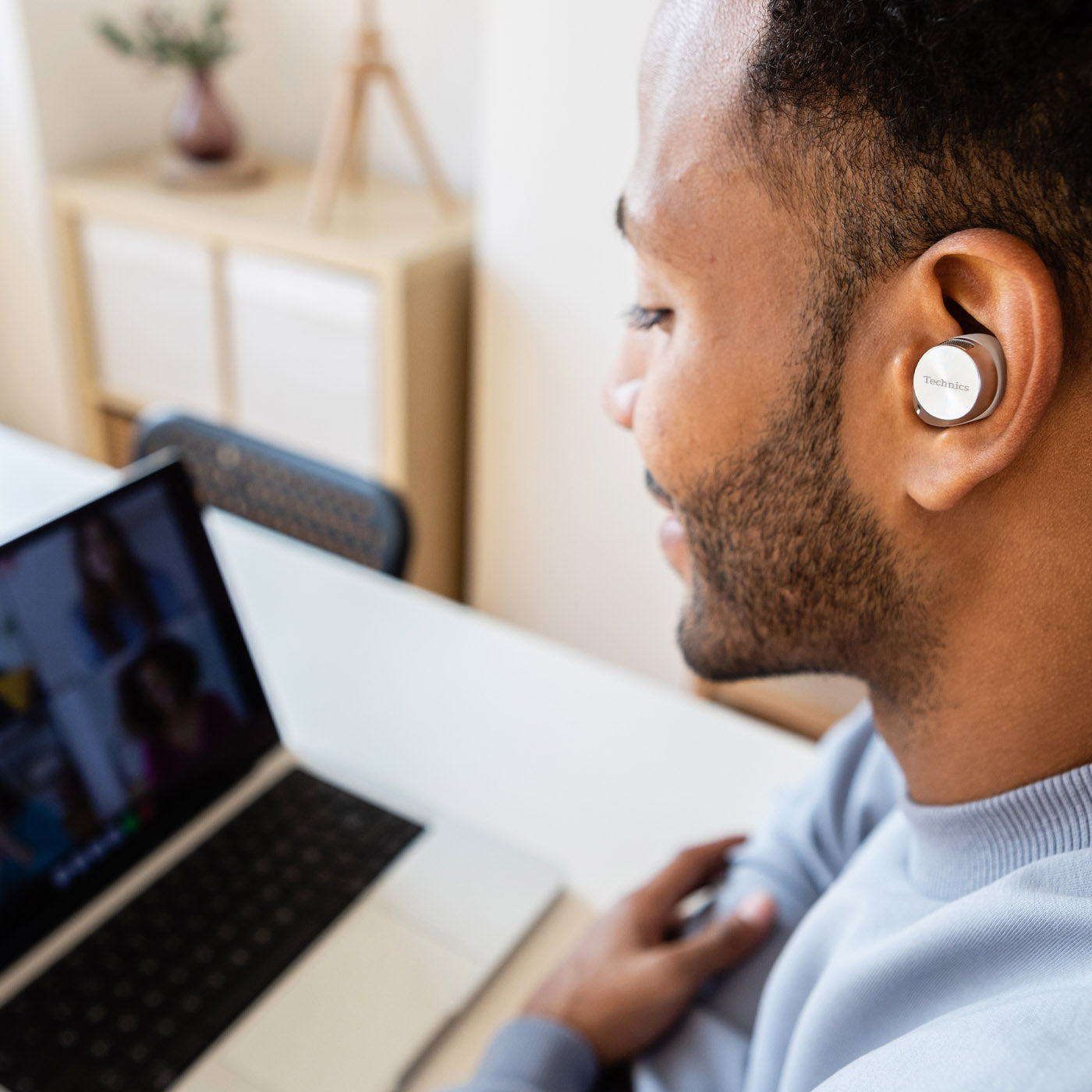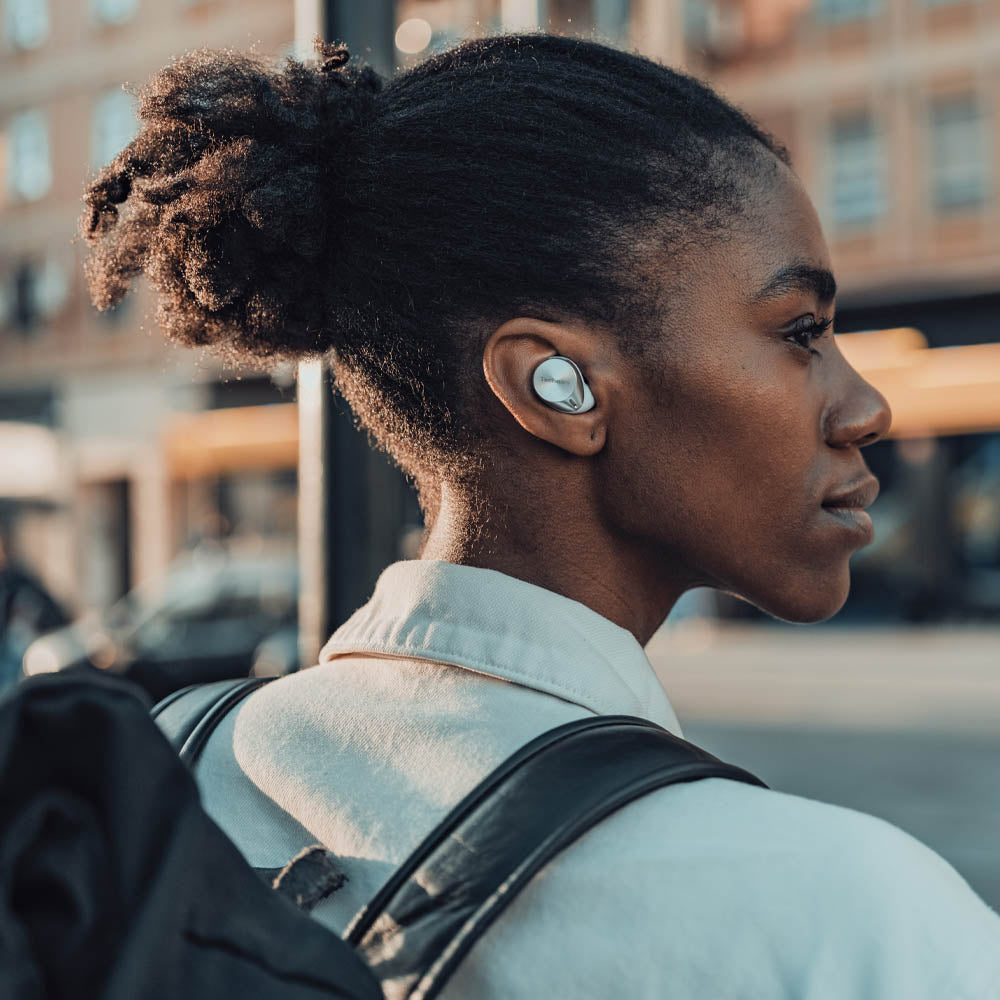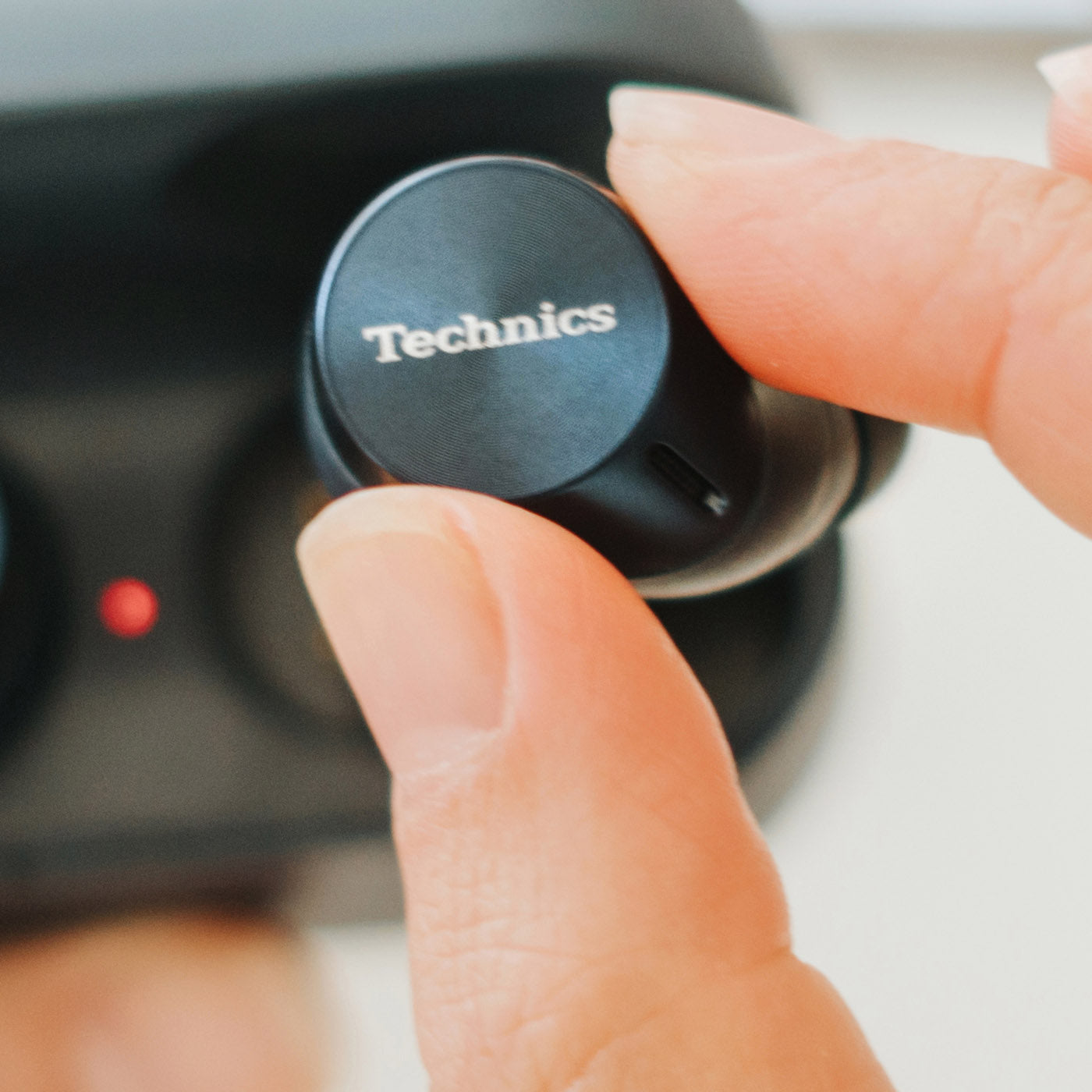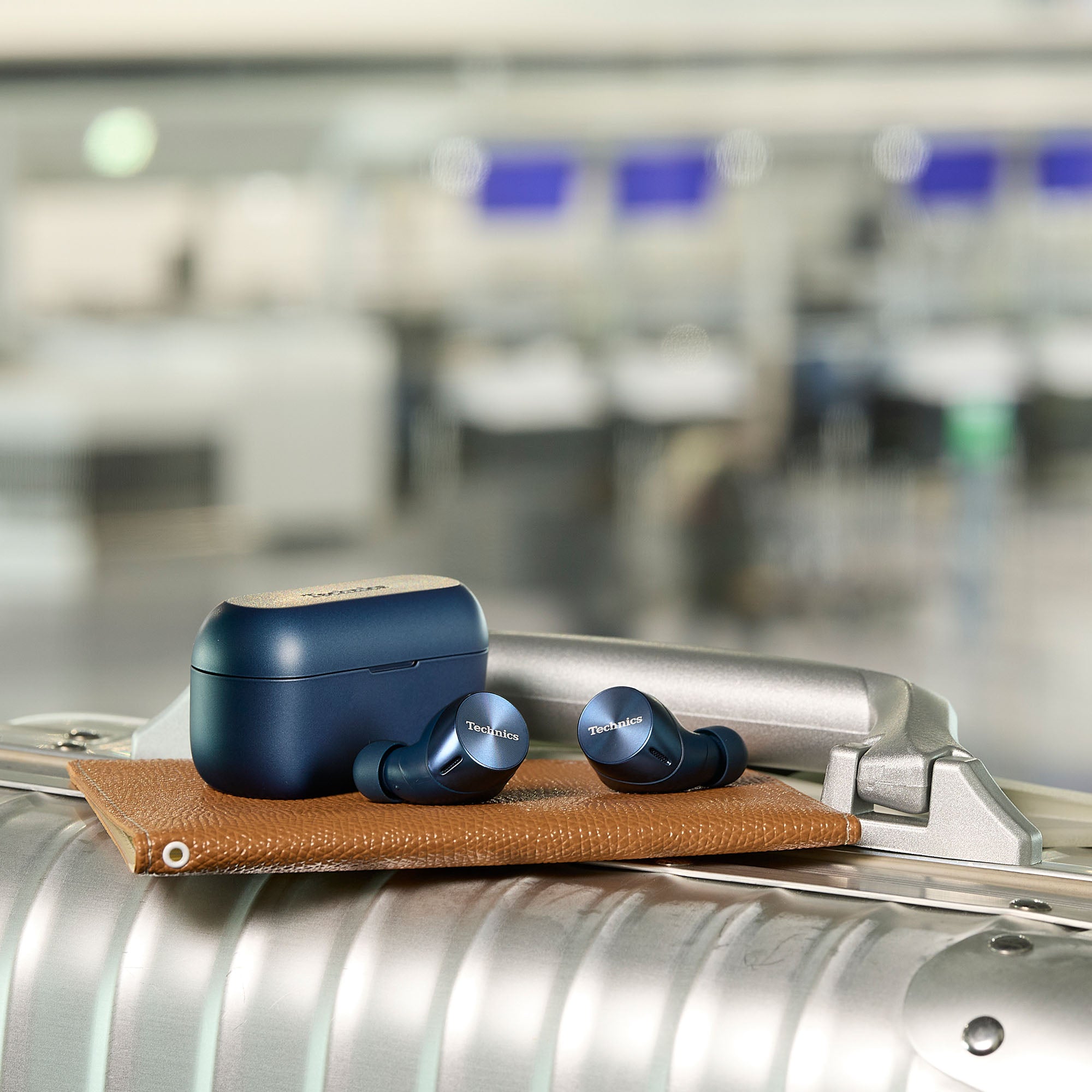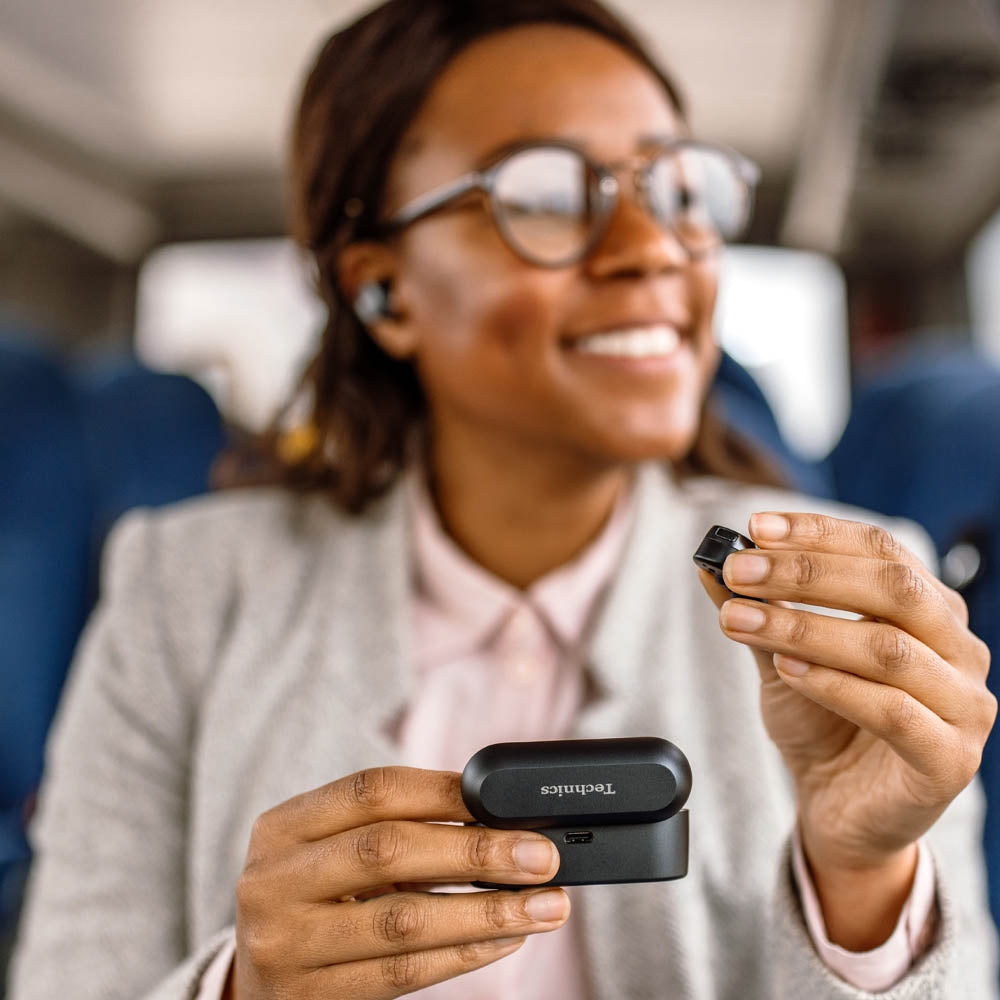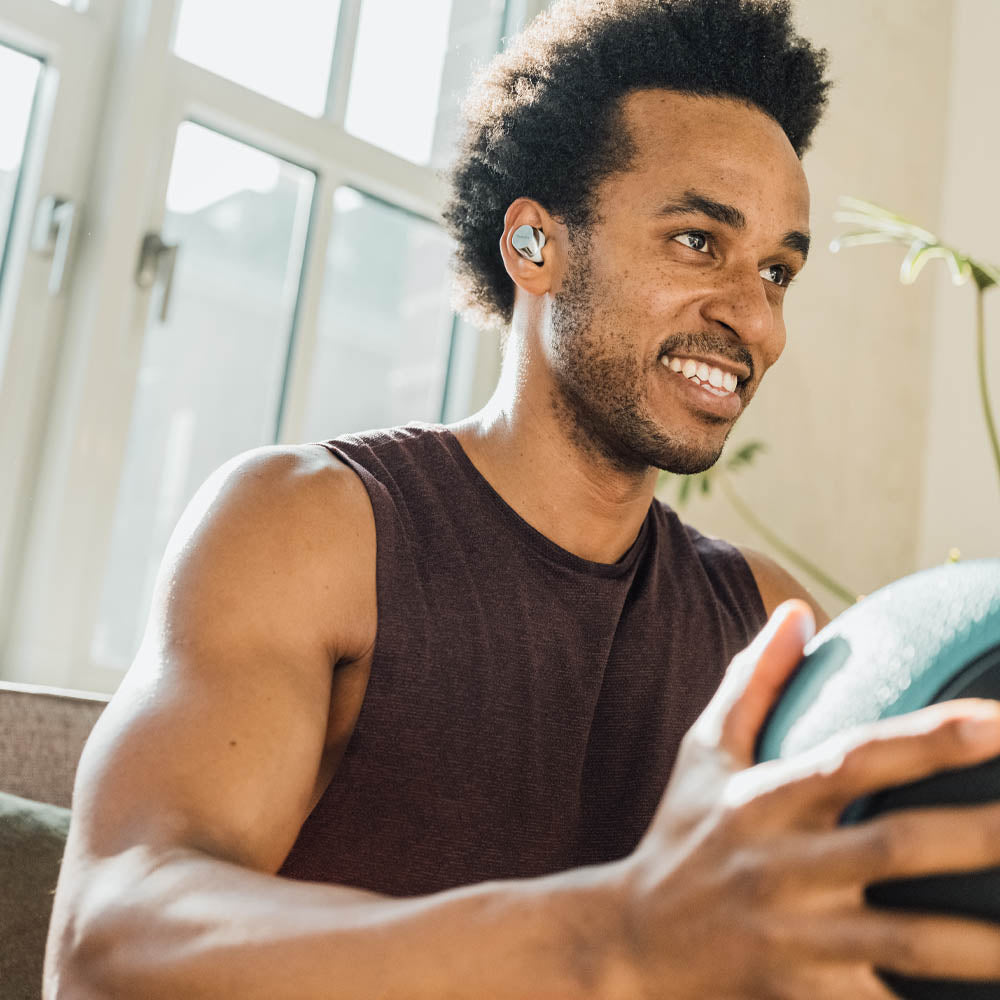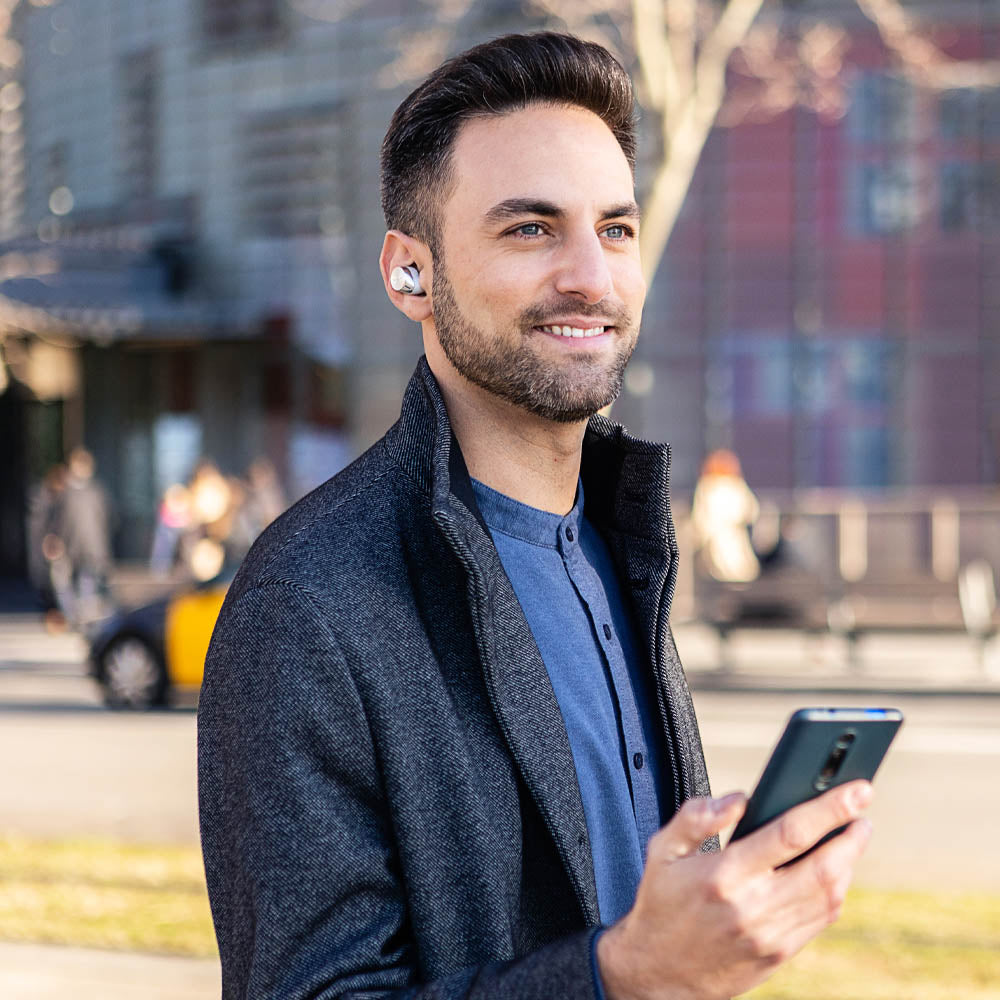 Total 5 star reviews: 50
Total 4 star reviews: 1
Total 3 star reviews: 0
Total 2 star reviews: 0
Total 1 star reviews: 0
100%
would recommend this product
Sound Quality
Rated 4.9 on a scale of 1 to 5
Comfort
Rated 4.8 on a scale of 1 to 5
Battery Life
Rated 4.9 on a scale of 1 to 5
Christopher (.

Verified Reviewer

Use

Running/Walking,

Everyday

Audio Done Right

These headphones are really on another level. Technics has been in the game for years so hearing that they made headphones I was really surprised. At first listen I was impressed how fine tuned everything was and how much customization there was. These blew my AirPod Pros out of the water. Solid recommendation if you're looking to step your audio up.

Sound Quality

Rated 5.0 on a scale of 1 to 5

Comfort

Rated 5.0 on a scale of 1 to 5

Battery Life

Rated 5.0 on a scale of 1 to 5

Andrew P.

Verified Reviewer

Use

Work,

Gym,

Running/Walking,

Everyday

BEST EARBUDS FOR EVERYDAY USE

I got these earbuds a while back and have not been able to put them down. I'm constantly using them for school, editing sessions, and the gym. The crazy part is that they last the entire day and still have a lot of battery left. The noise cancellation is also really great and excels compared to other earbuds. They are also super compact and fit in my ear perfectly. They come with different silicone sizes so they will fit anyone and everyone perfectly. I definitely recommend to anyone.

Sound Quality

Rated 5.0 on a scale of 1 to 5

Comfort

Rated 5.0 on a scale of 1 to 5

Battery Life

Rated 5.0 on a scale of 1 to 5

Moises R.

Verified Reviewer

Way better then AirPods

I recently had the pleasure of trying out the Hi-Fi True Wireless Earbuds II with Noise Cancelling EAH-AZ60M2, and I must say, I'm thoroughly impressed. These earbuds offer a remarkable audio experience that left me in awe.

First and foremost, the sound quality is exceptional. The Hi-Fi True Wireless Earbuds II deliver crisp, clear, and immersive audio that truly allows you to appreciate your music, podcasts, or movies to the fullest. The bass is punchy, the mids are well-balanced, and the highs are crystal clear, creating a well-rounded and enjoyable listening experience.

One of the standout features of these earbuds is the noise-cancelling technology. It effectively blocks out external noise, allowing you to focus on your audio without any distractions. Whether you're in a noisy coffee shop, on a crowded commute, or just trying to find some peace and quiet at home, the noise-cancelling feature truly shines.

Comfort is another area where these earbuds excel. They fit securely in my ears, and the various ear tip options provided ensured a snug and comfortable fit for extended listening sessions. Plus, they are lightweight, so I barely noticed I was wearing them.

The battery life is also impressive, giving you hours of playback time on a single charge. The charging case is sleek and portable, making it easy to carry your earbuds with you wherever you go, and it provides additional charges on the fly.

The touch controls are intuitive and responsive, allowing you to adjust…

Sound Quality

Rated 5.0 on a scale of 1 to 5

Comfort

Rated 5.0 on a scale of 1 to 5

Battery Life

Rated 5.0 on a scale of 1 to 5

That Traveler G.

Verified Reviewer

Use

Work,

Running/Walking,

Everyday,

Gym

More comfortable than AirPods Pro!

I travel once a month and use noise cancelling EarPods to avoid airplane noise, I used the AirPods Pro for a while, but after 30 minutes of use, my right ear hurts (quite a bit). The hard plastic and non-confirming form of the Apple product is not universal, and even with different tips, the hard plastic is what hit my ear and made it hurt. I gave the Technics AZ60M2s a try and I loved them. They are super comfortable and I can use them for prolonged periods of time without any issues. Also, the sound is clearer, both for music and for calls, I tested calling 3 people twice each, they all said I sounded better while using the Technics. It is better to use something that makes sense, and not just go for looks and/or the hype. I highly recommend these earbuds!!!

Sound Quality

Rated 5.0 on a scale of 1 to 5

Comfort

Rated 5.0 on a scale of 1 to 5

Battery Life

Rated 5.0 on a scale of 1 to 5

Michael D.

Verified Reviewer

Great Product!

After my AirPods broke (speaker burst) I was in major need of wireless earbuds. Not only do I use them to listen to music while working out, but I also rely on them for making calls on the go. My car is older and I don't have Bluetooth connectivity while driving, so the single earbud use is really effective. I love the multiple ear sizes for the perfect fit regardless of your ear type! The audio app is available too if you want to really customize your listening experience!

Sound Quality

Rated 5.0 on a scale of 1 to 5

Comfort

Rated 4.0 on a scale of 1 to 5

Battery Life

Rated 5.0 on a scale of 1 to 5
Reviews Loaded
Reviews Added